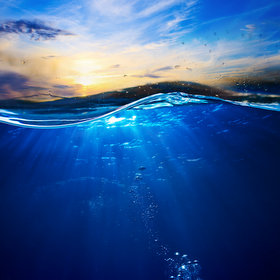 [Opinion column written by Greenrock's Matt Carr]
"What's the deal with the Bermuda Triangle?" – many Bermudians will agree that this is one of the most frequently asked questions by non-Bermudians to Bermudians or residents when they find out where we are from.
Greenrock suggests that the proposed Blue Halo marine reserve may have the very same effect – provide a global talking point about the waters surrounding our beautiful country, but with a positive message rather than a mysterious one.
There are statutory protections already in place for our marine resources, but these are not very well known. Greater exposure linked with an international conservation effort would be in the best interests of Bermuda. Just think how recognizable the Australian Great Barrier Reef is to tourists.
The involvement of Pew, [a global research and public policy organization, operated as an independent, non-partisan, non-governmental organization dedicated to serving the public]and the concept of the Blue Halo itself is free marketing that Bermuda should take advantage of. Pew will have no rights related to our marine reserve, this is our decision and our opportunity. Greenrock would never endorse an initiative if it ceded ownership or rights to a third party over our territorial waters.
We would like to remind the public that a conservation initiative such as the Blue Halo is reversible, though we would hope that it would last into perpetuity. If there were an overwhelming case for use of our Exclusive Economic Zone [EEZ] that was at odds with the Blue Halo, the Government and electorate could adjust accordingly at that time.
We believe that an integrated, well-publicized, marine reserve is in our very best interest at this time. As natural resources around the world are further diminished, our 'backyard', as Choy Aming refers to it, will become more and more valuable for its indigenous state, the accessibility and beauty of our marine resources will become more and more appealing.
There may be a knock-on effect. Once Bermuda protects a portion of our EEZ, other nations [particularly those that have signed the Hamilton Declaration as part of the Sargasso Sea Alliance] may add to our conservation efforts by protecting the area surrounding our EEZ.
Matt Carr is a Director of Greenrock, a non-profit organisation established to engage the community to share solutions for a sustainable Bermuda. More information can be found at: www.greenrock.org
Read More About
Category: All, Environment