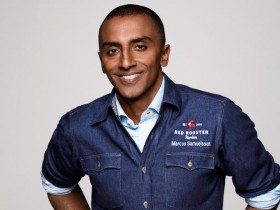 Celebrity chef Marcus Samuelsson had high words of praise for Art Mel's, saying they have the "biggest and best fried fish sandwich" which he called "perfection".
The culinary star also had words of praise for The Spot, Tavern By The Sea, Urban Cottage, as well as the "the welcoming friendliness of the people in Bermuda."
The Ethiopian-born, Swedish-raised chef served as the guest chef for the first State Dinner held by President Barack Obama, is the youngest chef to ever receive two three-star ratings from The New York Times, and appears as a judge on the Food Network.
Earlier this month he opened a two month pop-up restaurant, Samuelsson at HP at the Fairmont Hamilton Princess hotel, and will also create the hotel's new signature restaurant overlooking the harbour, which is set to open in May 2015.
In an interview with Forbes, Chef Samuelsson said, "I always noticed the welcoming friendliness of the people in Bermuda and the positive and happy energy."
"Different cultures and ingredients inspire the way I cook every day, and I was excited to create a new menu through this country's lens. I have really enjoyed getting to know Bermuda and am excited to be a part of the landscape there."
Speaking on the island's food scene, he said: "Art Mel's Spicy Dicy has been around in Bermuda for years and started as a roadside stand offering famous fish sandwiches. This is the biggest and best fried fish sandwich I have ever had. And with cheese and coleslaw and a ginger beer, it is perfection."
"The Spot is another one of my favorites because of how it really caters to the locals," he added. "It's in Hamilton and has been around for 70 years; it's one of the last authentic Bermudian diners. I love the Indian codfish and potatoes for lunch."
Chef Samuelsson also said that Tavern By The Sea is "great to sit and watch the boats go by," praised the shopping available at Urban Cottage, and said he enjoyed beaches including Warwick Long Bay and Horseshoe Bay Beach.
Read More About
Category: All, Entertainment, News