An excited crowd was on hand at the airport last night [August 18] to welcome home the Bermuda U/15 Girls Football Team after the group took part in the CONCACAF Under-15 Girls' Championships held at the ESPN Wide World of Sports Complex at Disney in Orlando, Florida.
Team players included Leilanni Nesbeth, Zakhari Turner, Adia Gibbons, Koa Goodchild, Gaiya Melokot, Megan Titterton, Tianna Mullen, Delia Ebbin, Emily Cabral, Danni Watson, Jadae Steede Hill, Trinae Edwards, Jya Ratteray Smith, Jaden Masters, Jordan Davies, Sh'Nyah Akinstall, Lindsey Pacheco and Nia Christopher.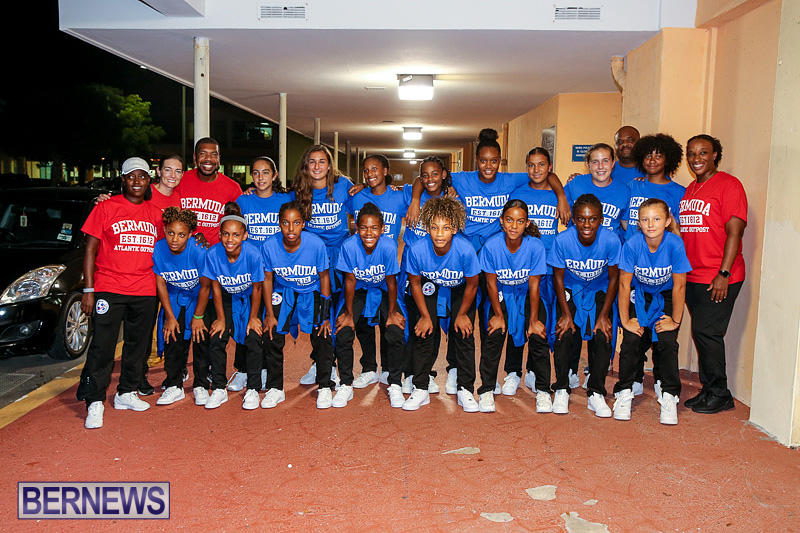 Bermuda was drawn in Group E with Cayman, Antigua & Barbuda and Bahamas, and the island's young footballers made a strong showing in the competition, winning their group.
They claimed a 3 – 0 victory over the Cayman, followed that up with a 3 – 1 win over the Bahamas, and then a 7 – 1 win over Antigua & Barbuda to advance to the quarterfinals. The team then matched up against the United States, and despite their best efforts they were defeated 12 – 0.
Speaking at the airport last night, Head Coach Naquita Robinson said, "We just returned to a fantastic crowd from the CONCACAF Championships in Orlando, Florida where our girls won our group convincingly with scores of 3-0, 3-1, and 7-1.
"It's quite an improvement for this group, a lot of hard work has been done. A lot of people don't understand what we ask of these girls, and you know it was times where I know they didn't want to be at training, they had to come to training. It's a lot of work, a lot of sacrifice.
"We asked the girls to pretty much give up their entire summer so that they can be committed to this cause. It was very exciting once we arrived at Disney World in Orlando. Our girls remained focused, some have never been, some have, but it didn't matter. They knew that they came to play football, and that's all that was on their mind.
"These young ladies are absolutely phenomenal," added Coach Robinson. "We have to continue to support them, right now I plead to any individual, company, anyone just to invest in this group, because they can go very far.
"We receive compliments, such as Bermuda is a team from this tournament to look for in the future. You know, individuals can say you know, you were in the lowest group and you advanced….but really to play against USA.
"I think the proudest moment for us as coaches is when you see your goalkeeper pick the ball up out of the net 12 times herself, at no time did she drop her head, at no time did she want to give up, you know, these girls, with every girl, we still went at it, we still went at it.
"You know, at the end of the match, we walked off that field, we had some tears, we had laughter, we hugged, we thanked our phenomenal fans, you know our fans were fantastic. This was like, I felt like I was at Old Trafford.
"Our fans were great. These girls were awesome. I really wish that our trip wasn't over because these girls really represented Bermuda extremely, extremely well.
Coach Robinson continued, "They're going to go on and do great things. Let's continue to support them, let's continue to support the Association so that they can continue to support us so that we can make this happen. Next year is U-17, we do it all again and the good thing is that we went two years ago, we only had three of these young ladies that went.
"This time, we're going in 2018, we're going to have six, so we doubled that number of experienced players, and we will look to do that because we got some young little stars coming through. They're sitting here looking at me now and I can't wait until they come in and we start preparing them for the next tournament.
"It's very exciting times for Bermuda, but we've got to support these girls. They are phenomenal and they love what they do and they want more. No one walked off the field saying, 'I'm not ever going to play this game again. I hate football.' They didn't, they walked off, they congratulated the USA and wished them luck in the rest of their rounds.
"We lost, but we were not defeated," added Coach Robinson.
Officials accompanying the team included Naquita Robinson – Head Coach, Vance Brown – Assistant Coach, Dashun Cooper – GK Coach, Amori Venter – Performance Rehab, Charryse Bean – Team Manager and Emmanuel Faria – Head of Delegation.
There were over 20 nations competing in the tournament including Anguilla, Antigua & Barbuda, Bahamas, Barbados, Bermuda, Cayman Islands, Curacao, Dominican Republic, Grenada, Haiti, Jamaica, Puerto Rico, Santa Lucia, St Vincent & Grenadines, Trinidad & Tobago, US Virgin Islands, Costa Rica, El Salvador, Nicaragua, Canada, Mexico, United States and Venezuela.

Read More About