Earlier today [Nov 6] Premier Michael Dunkley presented $214,000 to five local social and sporting organisations as part of the Government's Cash Back For Communities initiative, where confiscated assets are redistributed to charitable and community organisations.
The Premier was joined at today's event by Minister Wayne Scott, Minister of Community, Culture and Sports, Police Commissioner Michael DeSilva, and the representatives of the five sports and community organizations receiving donations.
The distribution amounts are as follows:
North Village Community Club — $24,000
Pembroke Hamilton Club – $24,000
Team StreetSafe – $33,000
Focus – $33,000
Family Centre – $100,000
Speaking at the event, Premier Dunkley said, "Good morning and thank you all for coming. Today [Nov 6] we mark an important milestone in the ongoing effort of so many people and organizations around the Island who are committed to addressing the social consequences of gang violence and anti-social behaviour."
"This Government promised to support these efforts. It started with our election campaign pledge in 2012 to create a "cash back for communities" initiative where we could put the proceeds of crime, seized by the Police, back into the communities. After the election, the Ministry of National Security worked with the Ministry of Legal Affairs and the Ministry of Finance to amend legislation to make this possible."
"In June of last year, the House and Senate passed the Proceeds of Crime Amendment Act 2013 which allows for payments to be made from the Confiscated Assets Fund to further the programmes of a community-based organization or sports club that are related to youth development, sport, area improvement, community improvement or infrastructure improvement."
"Since that time and through various administrative processes we come today [Nov 6]to make the first presentations of funds seized as the proceeds of crime which will be presented to the organizations represented here. Their work in these various areas is well known, valued and respected."
"I am grateful to North Village Community Club who agreed to host this event today [Nov 6]. This Education Centre and the excellent programmes run here by the club provide a great example of impactful community programmes targeting young people with positive messages through sport."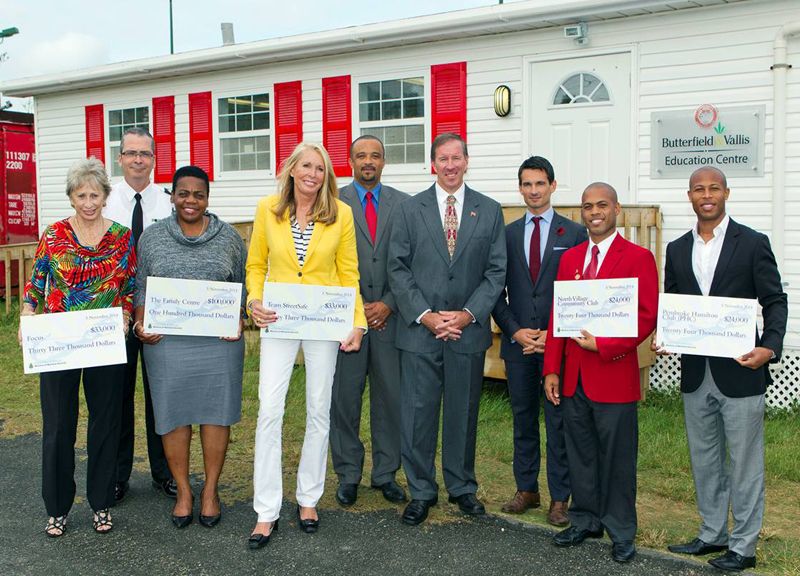 The Premier continued, "The same can be said of Pembroke Hamilton Club who likewise provides an impressive network of youth support across various age groups."
"Established community organizations like The Family Centre and Focus Counselling Services often do the silent, critical work that provides the support to families and individuals who need to break the cycle of a destructive life pattern and through their engagement in the community, many lives are saved."
"Lastly, Team Street Safe is at the grassroots level in affected communities, working with young men and women to present viable alternatives to the gang lifestyle. Their intervention and assistance restores hope to a generation this country needs fully engaged for our future success."
"There are many demands on the public purse and it is impossible for the Government to meet every request for financial support. However, the people elected us to find solutions to the needs of the community. We promised a means by which to channel funds into areas affected by gang violence and harmed by crime."
"Today we make that promise a reality," added the Premier.
Read More About