The second day of the Bermuda Optimist National and Open Championship started with a forecast for heavy rain and strong breezes from the south, however the weather had another plan and the first two races of the day saw only about 7 kts.
Bermuda sailor Campbell Patton came out and won both of the morning races, and the fleet had to take a break midday to allow a heavy rain squall to run across the course before they could resume.
After the rain, in the third race, the forecasted stronger wind appeared and the fleet raced in a crisp 15 kts with Jack Corbett [USA] winning that race. The final race of the day the wind dropped again and saw Carmen Cowles [USA] as the victor.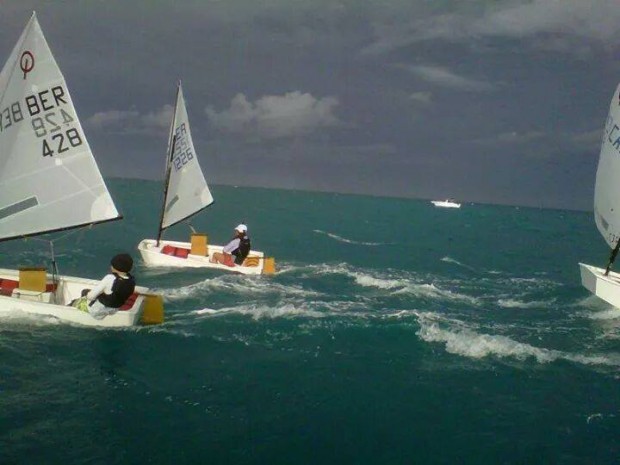 Leading the pack in the Open Championships after 8 races is Carmen Cowles with 19 pts, behind her is a pack of sailors separated only by 7 points. In order they are Adam Larson, Emma Cowles [USA], Campbell Patton, Tayte Stefaniuk, Jack Corbett [USA] and Connor Mraz [USA].
Just a little further back in 8th overall is Micah Thomas as the 4th Bermuda sailor in the Open Championship. The Nationals Championship [only Bermuda sailors] has a tight race at the top between Adam Larson, Tayte Stefaniuk and Campbell Patton as they vie for the title of 2014 Bermuda National Champion.
Four more races will be sailed today [Nov 11] in the Open Championship, while the Nationals Championship and the Green Fleet has a day off.
Read More About