[Written by John Rousmaniere]
When I wrote my history of the race, A Berth to Bermuda, in 2006, one theme wove its way through the narrative: Anyone who wishes to win the oldest of all ocean races must be prepared to be bold in choosing strategy and tactics.
Richard B. Nye, who with his father and three Carinas won two races and almost a third, told me, "We used to swing for the fences a lot." Jim McCurdy designed Carinas and sailed with the Nyes, as did his daughters, Hope and Sheila. They learned the lesson well: don't be afraid to take a chance.
On the night before the start, Sheila spread out a multi-hued satellite image of the racecourse, pointed to a big circular eddy north of the Gulf Stream, and said, with her characteristic decisiveness, "We're going there."
There was a waypoint 50 miles west of the rhumb line and placed near the top of a big clockwise-swirling circular eddy. In the southwesterly wind that was forecast, getting there meant sailing close-hauled, hard on the wind, for more than 100 miles.
The 2008 Crew included John Rousmaniere, Carol Vernon, Morgan McCurdy, Anne Becker, David Brown, Sheila McCurdy and Rush Hambleton.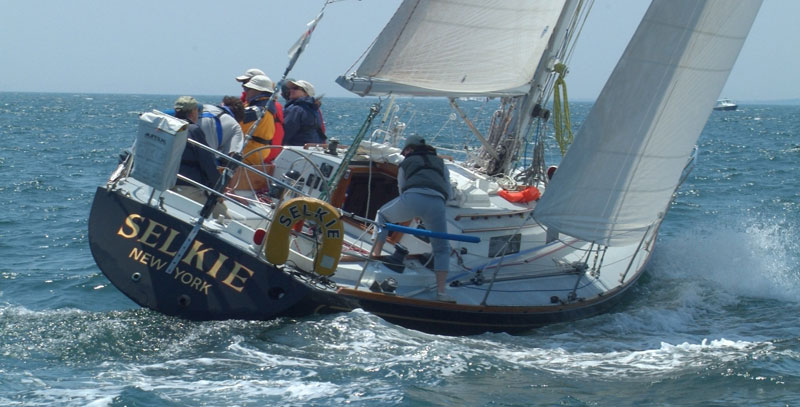 Did we do it? The short answer is yes. After we reached Bermuda, while wandering the Royal Bermuda Yacht Club piers looking at boats and picking up chitchat about the race, I overheard someone say this: "It's not hard to win a Bermuda Race. Get a good start, sail west, then collect your trophy." I wish it were that easy, but that's not a bad outline.
We got the good start. Dave Brown [the other watch captain and Sheila's husband] put Selkie on the line at the committee boat end at good speed.
We tacked to port across the strong ebb current, and when we ran out of water, went back to starboard, established an angle of heel that would define our lives over the next four days, and with Sheila steering started to point and point and point.
Squeezing off a Swan 43 on our starboard quarter gave us an open lane to the eddy and proved to me, a new jack in the crew, that this boat could do what was asked of her.
Peeking under the boom I spied the main competition, two boats that Selkie had been dueling for years. One was Edwin Gaynor's Aage Nielsen-designed Emily, always at or near the top and now sailing her record sixteenth race to the Onion Patch.
The other was Sinn Fein, Peter Rebovich's Cal 40 and the most successful Bermuda Race boat in the first ten years of the 21st century—winner of her class in the last three races, and winner of the ORR rule division in 2006.
Happily for us, Sinn Fein was sagging off. "She can't climb up there," I recall thinking [and hoping], "which means she won't make the eddy." And so our true thrash to St. David's Head was under way, with Selkie tight to the breeze.
Read the whole story of John Rousmaniere's 2008 Newport Bermuda Race adventure online
Photo Credit: Talbot Wilson
Read More About