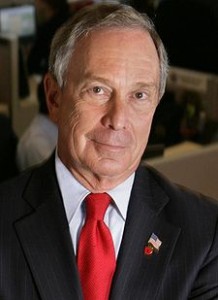 The One Bermuda Alliance today [Mar 16] announced that Michael Bloomberg — founder of Bloomberg LP and three-term mayor of the City of New York — will be the guest speaker at its spring conference to be held April 11th.
OBA Chair Lynne Woolridge said: "We are very fortunate to have former New York mayor and friend of Bermuda, Michael Bloomberg as our guest speaker. Members will also hear from our Leader and Premier the Hon. Michael Dunkley.
"Following Mr. Bloomberg's key note speech, there will be a reception during which members will have the opportunity to talk with OBA Parliamentarians, the Party Executive and Mr. Bloomberg."
"The Conference, which is for Party members, will be held at Pier 6 in Hamilton starting at 6 pm. Space is limited and tickets will be given out on a first come first served basis," the OBA said.
To obtain tickets, contact the OBA Office Manager at office@oba.bm or visit the OBA Headquarters at 58 Reid Street, Hamilton between 9 am and 4 pm Monday to Friday before April 6th.
"Members of the public who wish to join the Party, or existing members who need to update their membership, can do so online at www.oba.bm or at OBA headquarters."
Read More About