The Premier and Minister of National Security Michael Dunkley today [Apr 16] unveiled the new panel displays on the exterior walls of the General Post Office in Hamilton featuring images of the Bermuda Regiment, serving to commemorates the Bermuda Regiment's 50th anniversary.
"The panel displays pay homage to both the modern day roles and highly valued traditions of the Regiment showing the Bermuda Regiment's contribution to our island's security through disaster preparedness and maritime operations," a spokesperson said.
Premier with the Post Master General Major [Retired] A. Wayne B. Smith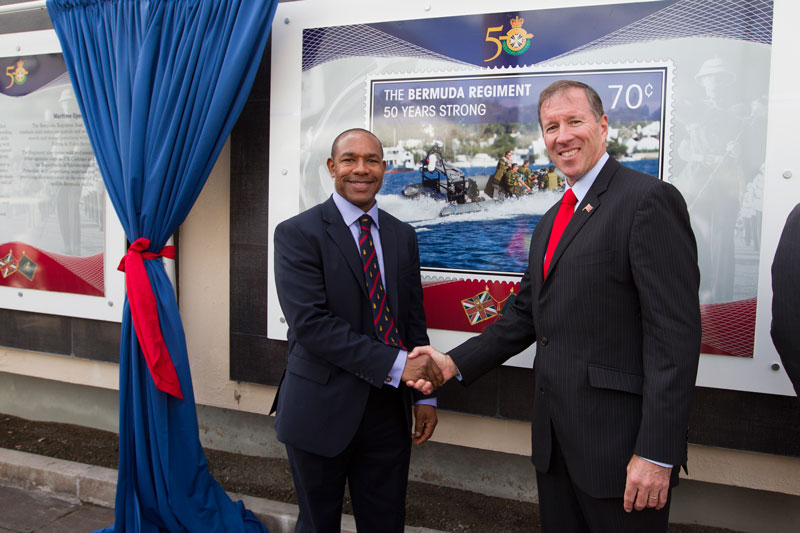 "They also depict the Regiment's rich history, traditions and contribution to the community through the Colours of the Bermuda Regiment, the talents of the Band and Corps of Drums and participation in a wide variety of ceremonial roles."
The Premier said, "For 50 years, The Bermuda Regiment has been a critical part of Bermuda's security infrastructure, a fact demonstrated recently by their tireless efforts getting the island back up and running after hurricanes Fay and Gonzalo."
He added: "As the Minister of National Security, I work very closely with the Bermuda Regiment and I am proud to call them colleagues in our mutual goal to protect our island each and every day.
"I thank them for their important contribution to the island which includes not only their internal security role, but as guardians of tradition and culture and as a driving force for social integration."
Premier with Senator Jeff Baron, Governor, George Fergusson and members of the Bermuda Regiment 50th Anniversary Committee.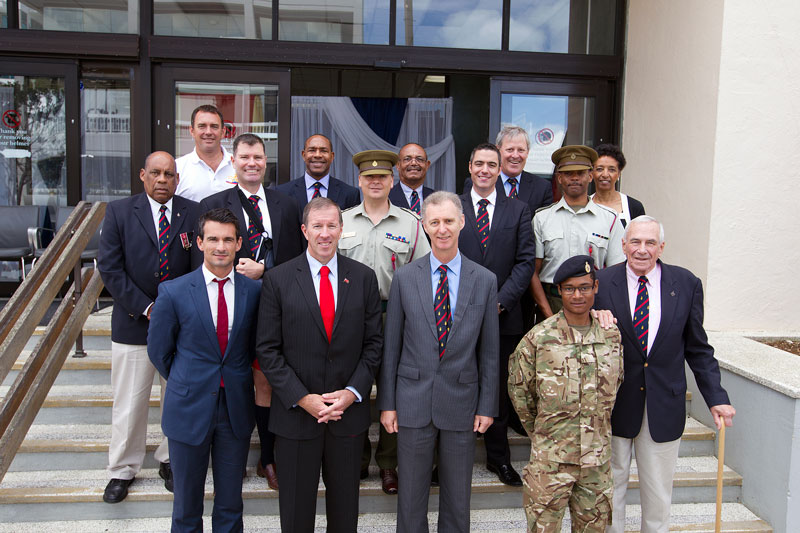 Major [Retired] A. Wayne B. Smith, Postmaster General said: "Today, the Bermuda Post Office commemorates the Bermuda Regiment's 50 Years of service to the Island and people of Bermuda with the unveiling a new panel display illustrating the roles and traditions of our Regiment. The display highlights the treasured aspects of Bermuda's culture and heritage.
He continued, "I congratulate the past and current serving members of The Bermuda Regiment and recognize their valuable contribution over 50 years."
Read More About
Category: All