The Bermuda Football Association [BFA] will participate in CONCACAF's Women's Football Day initiative on Saturday, May 23 by organizing a Football Skills Challenge at the BFA Field.
Designed to empower all CONCACAF Member Associations to join forces for an annual day of celebration of women's football, the initiative is the first of its kind for the confederation and focuses on accomplishing goals including generating awareness about the transformative power of women's football, promoting and encouraging continued investment in women's football, and uniting every Member Association in creating a memorable day of women's football.
A spokesperson said, "The BFA is excited to host the Football Skills Challenge in order to bring unprecedented awareness to women's football in the CONCACAF region. We would also like to provide girls and women with the opportunity to become involved in football at the local level."
President Larry Mussenden said, "We recognize the importance that football and sport plays in the lives of millions of people in our CONCACAF region. We are excited about Women's Football Day as an opportunity to show that in Bermuda we can have football for all levels of talent, whether it be recreation, domestic competition or national representation.
"We encourage girls and ladies to come out and participate in or watch our Football Skills Challenge, and to be a part of the CONCACAF experience. Let's make women's football a mainstay of sport in Bermuda."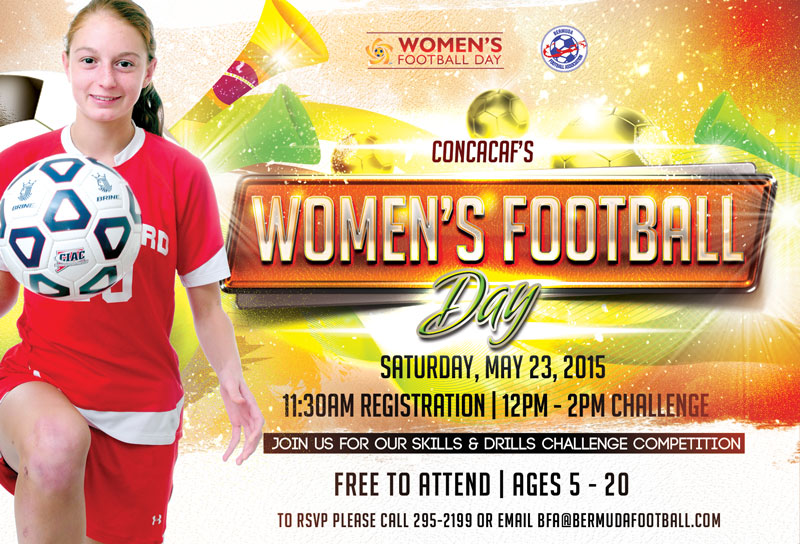 General Secretary David Sabir commented, "The Bermuda Football Association is proud to join forces with our regional confederation CONCACAF, as well as our colleagues from all National Association in the North, Caribbean, and Central American Zones.
"This celebration of Women's football is timely and signifies how important women and girls are to the continued rise in prominence of football. We encourage as many girls and women to join with the Association to make this a special day."
The event is open to females aged 5 to 20 and will include an opening ceremony, Skills and Drills Challenge Competition, shooting, juggling, passing, dribbling, free play [small sided game, a presentation, and a closing ceremony.
"The Football Skills Challenge for CONCACAF Women's Football Day will be held at the BFA Field on Saturday, May 23. Kick-off time for the event around the region is 11.00am Eastern Time, so the BFA requests that all participants arrive at 11.30am local time, so that all individuals can be registered and prepared for the start of the event at 12.00pm local time. It is free to attend.
"The BFA looks forward to an excellent turnout for the event and is working diligently to organize a unique and enjoyable experience for all participants, staff, and spectators."
More information regarding the Bermuda Football Association's Women's Football Day activities can be found on the BFA's Facebookpage.
Those interested in being involved in the event as participants or volunteers can contact the BFA at 295-2199 or bfa@bermudafootball.com.
Read More About