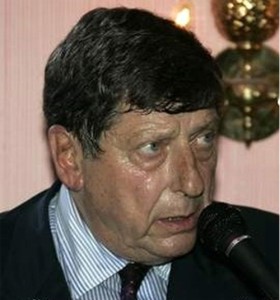 L'Alliance Française des Bermudes will be dedicating "Concert d'Antan", a Baroque concert at Verdmont, to the memory of the late Edgar Humann Guilleminot [pictured left], a long-time Bermuda resident and philanthropist.
Audrey Smatt, president of l'Alliance Française des Bermudes, said, "Mr. Humann, who passed away in March, had a long-lasting and close relationship with L'Alliance, as the former Honorary French Consul in Bermuda.
"Mr. Humann, alongside his spouse Faith Humann, did show unwavering support and guidance and has helped develop the vision for l'Alliance's Educational program, the most important charitable endeavor of the association since it was first registered as a charity in 1999."
"L'Alliance Française des Bermudes was founded in 1965 to promote and celebrate the French language and culture in Bermuda. L'Alliance Française had been inactive for a few years, but in the late 90's, with the encouragement of Mr. William de Vallières Frith, Honorary French Consul in Bermuda at the time, a new committee was formed.
"Soon thereafter, a full program of events and activities was offered to its membership, including dinners, wine tasting, musical evenings, pétanque, monthly French cinéma and its popular cocktail de Noël and July 14th celebrations."
Mariette Savoie, a member of the Education Committee, said, "Our Educational program is aimed at all students aged 14 and up studying French in Bermuda. The Concours Annuel, a competition where the students are selected based on their writing and conversational abilities in French, first took place in 2001.
"One high school student was chosen to receive a bursary to study French in France for one month with l'Alliance Française de Paris and a group of middle school students travelled together in July 2001 to the province of Quebec to participate in a language summer camp, Ekocamp, set in the beautiful region of the Laurentides.
"With the financial aid of The Christian Humann Foundation, l'Alliance Française des Bermudes has, in the last 15 years, offered travel and study burseries to more than 70 students, helping them improve on their language skills and fostering their love of the French language and culture."
Ms. Savoie continued, "One of the aspects of the program dear to Mr. Humann was the fact that the students from all schools in Bermuda, both private and public, have always been encouraged to participate in the Concours Annuel."
"The winners travel and study together for three weeks in France, staying with host families, and developing long-lasting friendships, with each other, and with students from all over the world. This year's winners are from BHS, MSA, Warwick Academy and Whitney Institute."
"In the last seven to eight years, l'Alliance has worked very closely with the Centre International d'Antibes, which operates many language schools in the South of France. The Bermudian students usually stay in Cannes, a beautiful city on the coast a few miles from Nice that appeals to l'Alliance because of its small size and friendliness."
2004 presentation with Honorary French Consul in Bermuda William de Vallières Frith and Mariette Savoie: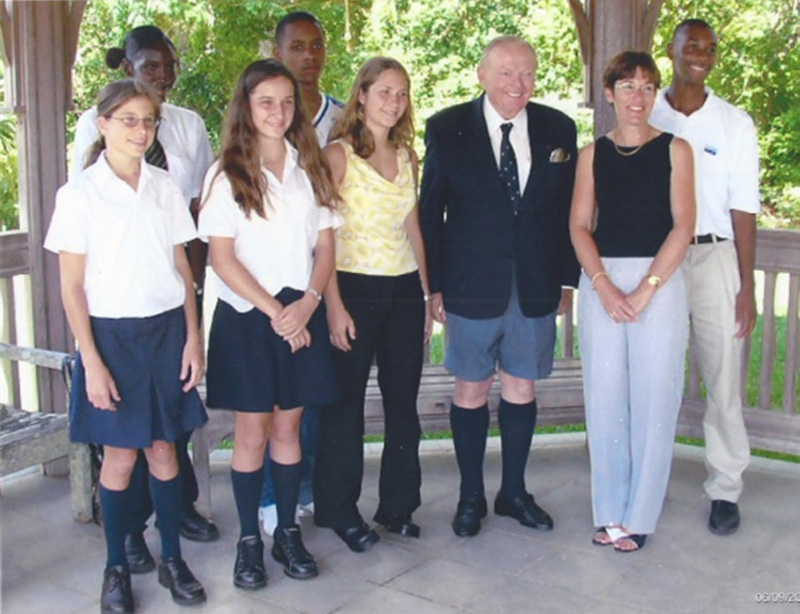 Dr. Alexandra Amat, who has headed this new aspect of the program, said, "In the last four years, we have expended our program to offer a long weekend in Paris, after the students have completed their studies in Cannes. It is a great cultural experience for them; they get the chance to try out and hone their newly acquired language skills outside the classroom.
"It is a fun-filled three to four days of discovery of one of the most beautiful cities of the world. The students explore les Champs Elysées, climb the Eiffel Tower, visit Versailles, go to the Louvre and the Musée d'Orsay, stroll in Montmartre and the Quartier Latin, shop for bric-a-brac and piquenique treats in Paris' street markets, enjoy a show, go to the cinema, and even had the chance, in 2013, to join the crowd in welcoming the cyclists on the Champs Elysées, for the grand finale of the 100th Tour de France .
"Knowing his love of classical music, we thought it would be a very fitting way to celebrate Mr. Humann's unique contribution towards the goals and vision of l'Alliance Française des Bermudes – to promote the French language and culture, here, in Bermuda" declares Marc Morabito, one of the organizers of the Baroque Concert.
"This concert promises to be a very special evening, with world-class renowned artists, Anne Robert, violinist, and Laure Morabito, harpsichordist, who have very generously offered to perform in tonight's benefit concert. All proceeds from the concert will be in support of the 2015 Concours Annuel Paris experience."
"Verdmont, a Bermuda National Trust historic home in Devonshire, was chosen as the venue as it is an ideal setting for this type of music, with beautiful acoustics and the charm of a virtually unchanged 17th century Georgian mansion. A reception will be held in Verdmont's beautiful gardens after the concert.
"Spaces are limited, and patrons are encouraged to purchase their tickets early not to be disappointed."
The show will take place on May 29. Tickets, priced at $65 for l'Alliance members and $75 for non-members, are available at bdatix.bm or at Pulp and Circumstances. For more information, contact Mariette Savoie at alliancefrancaisebda@gmail.com, or visit the website.
Read More About
Category: All, Entertainment, Music