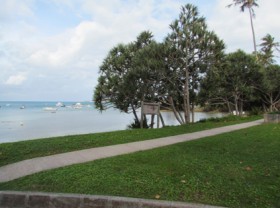 The Bermuda Economic Development Corporation's Somerset Economic Empowerment Zone [SEEZ] will be hosting a Mangrove Bay Beach Development Public Information & Design Session on Monday, June 1, 2015 at the Sandys Middle School from 6:00pm to 8:45pm.
Key partners in the BEDC, SEEZ Mangrove Bay Beach development project include Cambridge Beaches Resort & Spa, The Sandys Parish Council, The Bermuda Tourism Authority, and the Government Departments of Planning; Public Lands & Buildings; Highways; and Parks.
"Since its 2012 public forum, the SEEZ has trumpeted the wholesale regeneration of Mangrove Bay. Now, the SEEZ alongside its strategic partners are poised to fully optimize the beach's natural assets in conjunction with embracing underlying developmental challenges and constraints," the BEDC said.
"The beach, long heralded as one of Somerset's natural treasures, has beautiful northward facing vistas, mostly calm waters and is closely linked with the vibrant Mangrove Bay commercial hub. Concurrently, the beach has an eroding foreshore, no proper access and egress, is laden with abandoned punts, has road water drainage issues and has no infrastructure for healthy economic activity."
William Spriggs, BEDC Economic Development Officer, Somerset EEZ, commented, "In addition to the various forms of advice and financial assistance we give to small businesses in Somerset we are excited about partnering with the right private and public entities to develop the Mangrove Bay Beach to its fullest potential.
"Picturing the beach in a regenerated state, we envision at least a dozen new seasonal businesses that could be established on and around Mangrove Bay Beach which can contribute to better serving locals and visitors alike. Overcoming the beach's long standing development issues and sensitivities won't be easy, but we have set ourselves to the task of producing great results".
Mr. Spriggs continued "Simply put, Mangrove Bay Beach is a dirty diamond that has been neglected for far too long. Somerset, and Bermuda as a whole, needs full use of all of its natural assets, especially with the expectation that thousands of Bermudians and visitors will pass by the beach on their way to Dockyard to participate in the America's Cup festivities."
The public are invited to attend the June 1st information session to learn about the beach's history, dynamics, what makes a successful beach destination, and also to give their input on what should be incorporated into the beach's design and prospective development.
Read More About