UK Labour leader Ed Miliband has stepped down after his party's disappointing general election showing, multiple UK news outlets are reporting.
During his election campaign Mr Miliband had threatened to have Bermuda placed on OECD's tax haven blacklist if we did not produce a publicly accessible central register of beneficial ownership.
Tweet sent by Ed Miliband following the election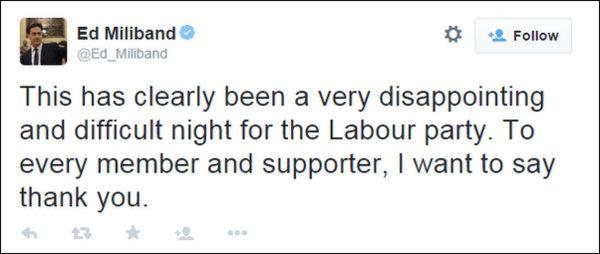 As the election campaigns got underway earlier this year,  Mr Miliband was reported to have sent a letter to Overseas Territories — including Bermuda — saying that within 6 months of the election of Labour government, they will be required to produce a publicly accessible central register of beneficial ownership.
"If any Overseas Territory or Crown Dependency does not meet this deadline, we will ask the Organisation for Economic Co-operation and Development [OECD] to put them on the OECD's tax haven blacklist," the Labour Leader said prior to the election.
Noting that Bermuda established a framework over 70 years ago requiring persons incorporating in Bermuda to provide central authorities with information on the proposed ultimate beneficial owner of a business, Finance Minister Bob Richards has previously pointed out that "there is currently no requirement in the United Kingdom for this information to be filed with a UK central authority."
The Minister said that consultation with the industry concluded there is "overwhelming support for Bermuda's present disclosure regime," and that Bermuda should not move to the new model of regulation until its adoption by Canada, the UK and USA.
"Moreover, to do so without simultaneous similar action by competing jurisdictions would put Bermuda at a significant competitive disadvantage and severely damage our economy," said Minister Richards.
Mr Miliband wasn't the only party leader to step down, with Lib Dem leader Nick Clegg also resigning after his party suffered heavy losses, with the Lib Dems set to be reduced from 57 to eight MPs.
Results are still coming in from around the UK, however the Conservatives — led by David Cameron — are forecast to win enough seats to form an overall majority.
Read More About