Seven students of the Bermuda Small Circle Jujitsu Academy [BSCJA] have achieved the rank of black belt during the semi-annual grading period this past week.
Earning their Youth Black Belts at the ages of 7-8 were Leauna Young, Emily Orchard, Akina Williams, Hanna Taylor and Sawyer Adderley. The students have trained for more than four years to achieve their newly earned rank.
A spokesperson said, "Their role models, Naomi Harvey and Amari Maxwell, both aged 12, achieved their Youth Black Belts at the ages of 7 and 8 respectively and then continued to train for another five years. They are now honoured to have earned the prestigious rank of Junior Black Belt in Small Circle Jujitsu."
Sensei Shawn Harvey, Akina Williams, Leauna Young, Emily Orchard, & Hanna Taylor [not pictured: Sawyer Adderley]: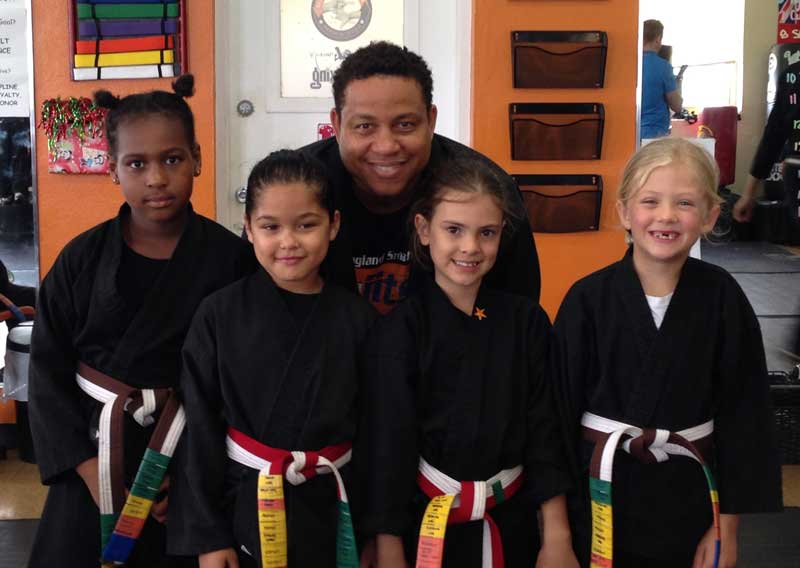 "In addition to demonstrating mastery of the techniques at a level suitable to their age and belt grade, BSCJA students must also display self-discipline and respect in all aspects of their lives – school, at home and in the community.
"The strong support they receive from their families and teachers is an important component of their path to success."
Sensei Shawn Harvey said, "It's amazing that despite all the distractions and challenges children face today, these students rose above it and remained committed to an important goal. That five of the seven new Black Belts are female shows that leadership in Bermuda is changing.
"These girls can hold their own, and they're great role models. I couldn't be more proud of their achievement."
Receiving special recognition awards at the Prize Giving /Grog Bowl Banquet were:
Naomi Harvey and Leauna Young: Leadership Award
Cody Rans and Tristan Orchard: Honor Roll Belt Award
Taurie Spencer and Anijahe Martin Santos: Ambassador Award
Denton Trott and Emily Orchard: Most Improved Student Award
Leauna Young and Kalen Burgess: Highest Attendance Award
Hanna Taylor and Amari Maxwell: Sensei Shawn Harvey Award for Tenacity
Leauna Young and Shomari Watts: Sensei Ed Melaugh Award for Excellence
Cody Rans and Ryahn Ball: Reading Award
Ella Pinto-Ford and Cody Rans: Self Discipline Award
The Watts Family [Stephen, Teresa, Jamahria, Shomari & Jordan]: Training as a Family Award
The Burgess Family [Kevin, Zolita, Chelsea & Kalen]: Training as a Family Award
Savhye Belboda-Smith: Largest Family in Attendance Award
Amari Maxwell: Longest student at BSCJA Award
Naomi Harvey, Sensei Shawn Harvey, Shawn Harvey Jr, and Amari Maxwell: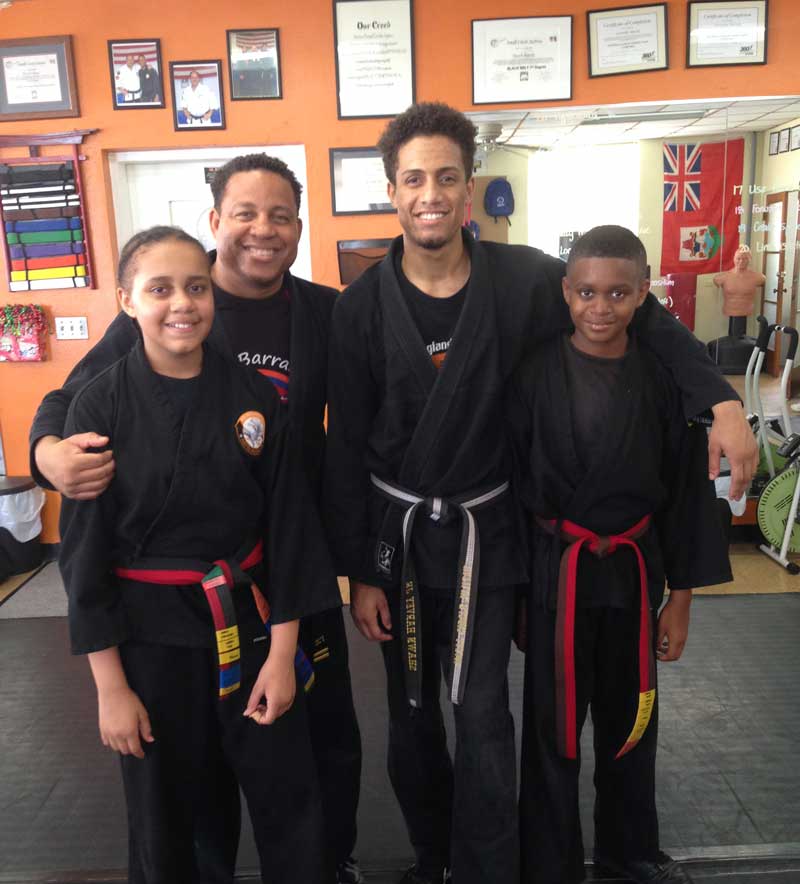 "Sensei Harvey owns and operates BSCJA with his wife Terrielyn, who serves as the Director of the school. They are supported by their son Shawn Jr. [also a Junior Black Belt] who assists with coaching and mentoring when he is home from university in the United States.
"The vision of the Harvey family is to improve the island of Bermuda, one child at a time. They're sharing their skills and knowledge to help children have a better life."
Mrs. Harvey said, "They come together to train in a non-violent, respectful manner. Because of their commitment to being their best in everything they do and the training they do together over a long period of time, they have become a really upstanding community of future leaders.
"We have high expectations of all our students, and they continuously prove that they're capable of achieving anything they believe in."
Shawn Jr said, "Seeing a group of young students achieve the rank of Black Belt here in Bermuda is incredible. It means so much more than being able to fight; these kids have built up their self-esteem and self-confidence. They've shown commitment and they always try their best.
"They've all had their challenges and they're not necessarily the top athletes or scholars in Bermuda, but they do well in everything because they have strong principles, great self-discipline and they try really hard. They're good people living better lives than they would have if they didn't have this experience.
"That's our measure of success."
For more information on the Bermuda Small Circle Jujitsu Academy, visit the website or call 292-9234.
Read More About