The Bermuda Volleyball Association has named the men's and women's indoor volleyball teams who will be representing Bermuda in the NatWest Island Games XVI.
The NatWest Island Games were last held in Bermuda in 2013, and will be held this year on the island of Jersey from June 27 through July 3rd, 2015.
In the 2013 NatWest Games in Bermuda, the veteran men's team finished on the podium with the Bronze Medal. 2015 sees a new generation of players looking to make their mark on the national team mixed with some experienced veteran players.
Head coach Van McPhail said,"With our new focus on youth development we are going into each game expecting to play hard, learn a lot, and come out of the game better than we went in. Saying that these boys have the potential to do very well at these games, and that is the result we expect."
The women will be looking to make their way on to the podium, having lost the Bronze Medal match in three of the last four NatWest Island Games. 2015 also sees a new look for the women's team with seven new players joining the roster.
Head coaches Juanita Blee & Bill Bucci said, "The Women's National Volleyball team is very excited about the upcoming NatWest Island Games being held in Jersey this year. We have attempted to put together a diverse cohesive team.
"We have veteran players who have represented Bermuda many times working alongside of young players some who will be representing Bermuda at this level for the first time.
"Our goal was to create a team culture where the new and younger player can work with the veteran players to everyone's benefit, while making our team as competitive as possible.
"The NatWest Island Games has always proved to be an excellent experience and a chance for Bermuda's athletes to test their skills on more of a global stage. We expect nothing less from our time in Jersey. Our sincere thanks to the BIGA and the IIGA for all their continued hard work which makes this event possible."
Bermuda will be facing off against teams from Jersey, Aland, Isle of Man, Faroe Islands, Shetland Islands and Guernsey and will be represented by the following teams:
Men
Brian Amaro
Shannon Botelho
Jacques deVerteuil
Daniel Fiddick
Eric Haller
Kyle Hamilton
Kieran Hamilton
Mark Hamilton
Gary LeBlanc
Kip Malpas
Brandon Sousa
Cyprian Zimecki
Women
Mi'Jon Bridges
Melissa Fiddick
Melisa Judd
Allison Lacoursiere
Amber Lopes
Sy McPeek
Khianda Pearman
Elisabeth Rae
Alana Rathbun-Swiss
Allison Settle-Smith
Sophia Sontag
Thea Symonds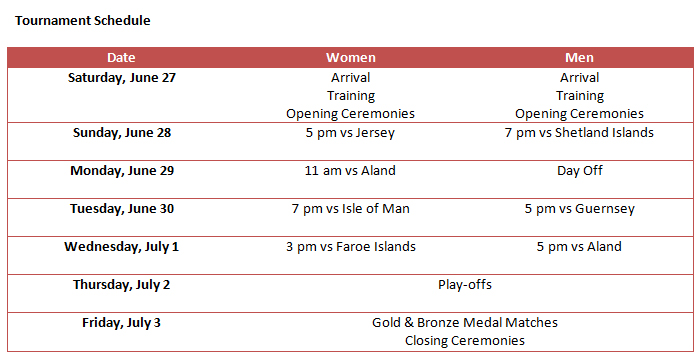 Read More About