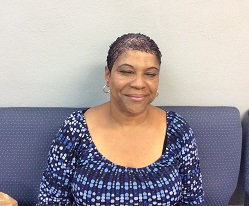 [Written by Don Burgess]
Everyone knows that batteries have to be replaced, but what happens when that battery is in a critical piece of medical equipment and there is no money to get a new one?
That is the situation Barbara Johnson is in.
In April 2002, Ms. Johnson started suffering chronic pain in her leg. [The exact cause of that pain cannot be named for legal reasons.]
Since then, she has had nine operations at both Johns Hopkins in Baltimore and The Lahey Clinic in Boston — with one of those surgeries being the implantation of a spinal cord stimulator in her back.
Dr. John Gaugain, of the Bermuda Chronic Pain Clinic, told Bernews: "Mrs. Barbara Johnson is a chronic pain sufferer who had a spinal cord stimulator implanted a number of years ago. She has travelled overseas a number of times for assessment and implant revision. She currently has a functional problem with her implant and, due to her financial circumstances, is seeking funding for her overseas appointment."
Ms. Johnson does not have the $65,000 to pay for the operation and the operation is only partially covered by HIP. [Bernews has seen the paperwork from the Lahey Clinic to verify the costs of this operation]. She can't get any help from the LCCA as she still owes around $25,000 from her last operation.
First Baptist Church has helped Barbara over the years with her medical bills, debts and needs, but the gap in which they can help this time is too great.
Because of the chronic pain, it makes it difficult to hold a job, and that's even if a company is willing to hire her because of the high cost of insuring her due to her medical liabilities.
Dr Gaugain said: "Chronic pain is a relatively common and complex condition, which can be debilitating to the individual if not controlled.
"In a number of patients special implants that prevent the signal from the pain site reaching the brain are used… and require specialist surgical expertise for their placement. At the moment the implantation of spinal cord stimulators is not available in Bermuda."
Mrs. Johnson said: "The unfortunate thing for me is I don't have insurance like I used to when I was working.
Ms. Johnson started to cry: "Anything so I don't have to face the pain on a daily basis without the device." She said since the operations she hasn't been "…able to work and perform the way I used to perform.
"Like everyone, I try to put up a good front, put on a smile and show the good side of us, but no one knows what I struggle with behind closed doors. I've stopped asking 'why' and have concentrated on how to best live my life with this."
"From the day I've had this implant, I was told, 'Don't let this battery die'. When I went for a checkup in November, they said it was time for a new battery," she said.
An additional problem for Mrs. Johnson is the stimulator has also moved closer to the surface of the skin so it protrudes a bit now.
"When they put it in, they put it deep in the tissue, but over the years the skin has thinned out and the box has started to lift to the surface. Just putting a belt on hits up against that area and it's uncomfortable.
"My pain varies every day. Dr. Gaugain explained to me that it is like a live wire being in a gutter and it sparks. My leg is like that because the nerve is damaged. I have no idea when it is going to hit — it's unpredictable, but I try to live my life as normal as I possibly can," Ms. Johnson said. "But there is always that pain that is dormant and I don't know when it is going to happen."
She added, "[the device] has changed my life because I don't have the pain I used to suffer every day. I used to be down at the hospital all the time. I had to learn to deal with chronic pain".
Once she had the spinal cord stimulator implanted in her back, much of the pain she was suffering through was taken away.
"This has worked for me really well and I don't know where I would be if I didn't have this device.
"After seven years I need a new battery. Just like any other battery, it doesn't last forever. It's not like without this battery I am going to fall down tomorrow, it helps me manage my pain."
"I'm trying to raise the funds to get this operation done. I've already postponed two surgeries because I haven't had the funds to do it. Right now, I'm just leaving it in the Lord's hands."
Update 9.25pm: People wishing to help Ms. Johnson, may do so by donating online to First Baptist Church HSBC account Account #010011955001. Please make sure it is marked clearly for Barbara Johnson.

Read More About