[Updating] At sometime around 10am this morning [Aug 12] emergency services responded to the Bermudiana Road area in Hamilton due to what we understand to be a bomb threat. Further details are limited at this time, will will update as able.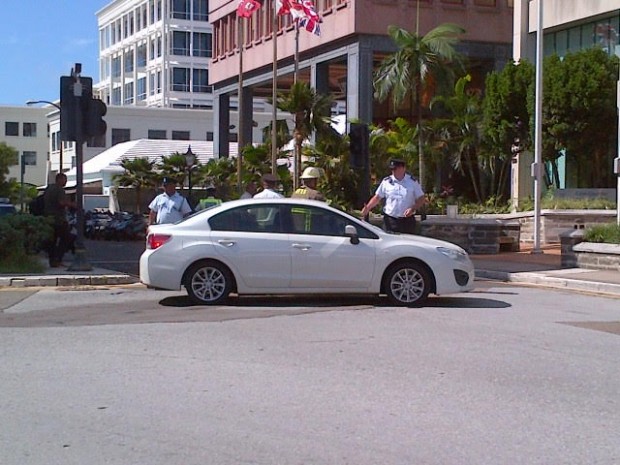 Update 10.38am: Police Media Manager Dwayne Caines said, "At 9.57am, Bermuda Police and Fire and Rescue received a report of a bomb at the Rosebank Centre of Butterfield Bank.
"Bank staff immediately initiated their fire safety strategy, and all the staff have been put in safe fire zones in the surrounding areas.
"Presently, officers from the Bermuda Police Service and the Bermuda Fire and Rescue Service are assessing the scene and we will update the media as warranted."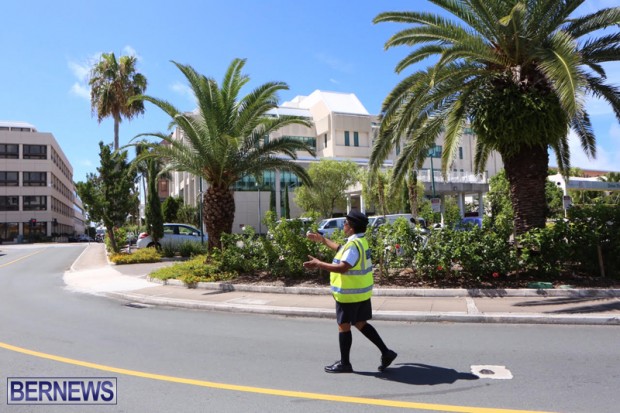 Update 10.51am: Mr Caines said, "In the abundance of caution, the buildings surrounding the Bank have been evacuated — Clarendon House, Bank of Bermuda etc — and the streets have been cordoned off."
Update 11.50am: Mr Caines said, "At 11.40am, the Bermuda Police Service Explosive Ordinance Disposal Unit [EOD] entered the building. They have been tasked with going through each floor of the bank. This is a process the police believe will take from 1 to 2 hours."
Update 12.03pm: Photos of the BPS team heading into the bank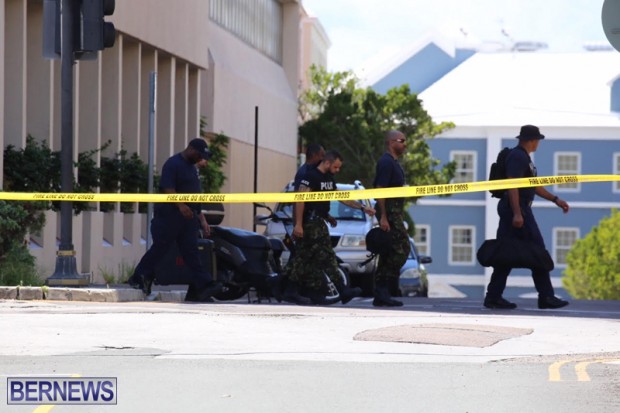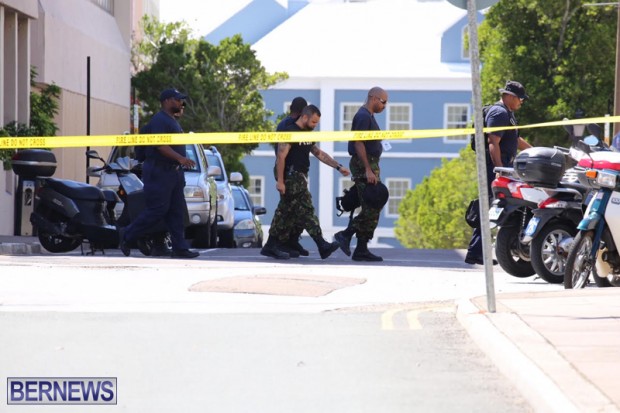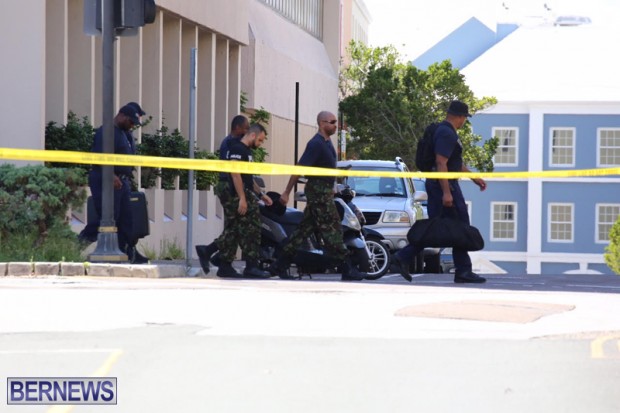 Update 4.53pm: A police spokesperson said, "At 9.52 am First Responders attended a report of a bomb threat at Butterfield Bank, Rose Bank Center. As a result the Butterfield bank instituted their emergency protocols and all bank personnel were detained in safe areas.
"The surrounding buildings, HSBC Compass Point, Clarendon House and The TIGER ESSO Station were duly evacuated.
"The adjoining roads Par La Ville Road, Richmond Road and Church Street were cordoned off. The Explosive Ordinance Disposal Unit [EODU] conducted a thorough search of the entire building. The building was officially cleared for use at 1pm with the adjoining roads opening at that time.
"An active investigation into this incident is underway and anyone with information is asked to contact Chief Inspector Calvin Smith on extension 247-1032.
"The Bermuda Police Service wishes to thank the public for their cooperation and patience."
Read More About