[Labour Day message from Leader of the Opposition Marc Bean]
The historical struggle for freedom, justice and equality has provided our people with many lessons. Perhaps the greatest lesson is where there is unity, there is strength. As we fought for equality of opportunity, better wages, better working conditions and better benefits, it was our unity of spirit and purpose that overcame the wealth, the power and influence of those who sought to maintain the status quo.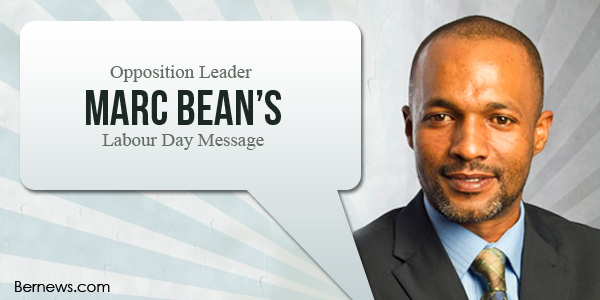 Today, we find ourselves in a new struggle. A struggle to retain all that we have fought for and all that our forefathers sacrificed for; the preservation of some measure of fairness and justice in our own country.
We have seen those who seek to roll back progress employ every weapon at their disposal to divide us, silence us and implement an agenda that benefits the few and not the many. To those who know their history, the use of the courts as a weapon to tarnish reputations, drain resources and strike fear into others is not new, but is a resurrection of one of the oppressive tactics of the past.
Now more than ever our unity is our strength. Pastor Martin Niemoller once wrote:
First they came for the Socialists, and I did not speak out-
Because I was not a Socialist.

Then they came for the Trade Unionists. and I did not speak out-
Because I was not a Trade Unionist.

Then they came for the Jews, and I did not speak out-
Because I was not a Jew.

Then they came for me – and there was no one left to speak for me.
When the courts were first used to target members of the PLP, many or us stood silent. Some of us thought that those who had been targeted had somehow brought this victimization upon themselves and held other uncharitable erroneous notions. We in the PLP will not make that mistake.
We oppose the systematic targeting for destruction of our young black, Bermudian leaders.
We oppose the implementation of a version of shared sacrifice that says the many must sacrifice while only a few share the benefits.
The Bermuda Progressive Labour Party stands with the Bermuda Trade Union Congress, because we believe in a Bermuda where workers are treated fairly and with decency and dignity.
The PLP stands with Bermuda's workers because you are us. You are our neighbors, our friends, our family. We rise when you rise and we fall when you fall. We laugh with you in joy and weep with you in pain. We share in your struggle and all that we seek to do, all we dream of achieving is for your benefit.
Together we will resist those who seek to take Bermuda backward and as sure as the setting of the sun, we will soon write an end to this dark chapter of our island's history.
Yet as we seek to preserve the hard fought victories of the past, we must also look forward into the future.
We must look beyond fighting for the privilege of our children to seek jobs from the children of those that we, our parents and our grandparents had to go to for work.
We must look beyond fighting for better pay and benefits and towards profit sharing, management and yes, even ownership.
We must look beyond having more money to spend on frivolities, to a vision of group economic strength, influence and power.
We must speak out against shiftless and irresponsible behavior and stamp out the notion that a unionized worker is a lazy worker.
We must come together, share our wealth and resources and set to work on transforming our country into one that works for us and is run by us.
Putting our unity towards minding our business is the path to a better Bermuda for generations of yet unborn Bermudians deserving of a future of self-determination, freedom and justice. It can and must start with us; United, committed and strong.
- Marc Bean

Read More About