The Bermuda Health Council and Bernews have teamed-up to answer your questions about the island's health care system. Visit www.bhec.bm to submit your queries and look for BHeC's response on Bernews.
Question: I saw that the Throne Speech did not include anything about ensuring the safety of health businesses on the Island. Is anyone checking? Is there any oversight when it comes to these organizations?
Answer: The quick answer is yes there has been oversight and it is currently expanding. Regulated health professionals [the individual] register with their relevant Boards who review their qualifications and determine if they are qualified to practice in Bermuda.
The Boards are also responsible for disciplining health professionals and establishing standards of practice. Presently, health service providers [the business], are self-regulated, and they use clinical guidelines, benchmarking and peer review to guide clinical practice.
Most health businesses are doing an excellent job at delivering high quality affordable care in clean facilities using best practice standards. However, some are not. On 14th September this year, the Bermuda Health Council began a voluntary registration process for the businesses.
The registration will allow the Health Council to better understand what is in the community, how well it is working, better plan for our health system and work together to improve care. In addition, the registration process will assist with regulating self-referrals and the entry of high risk medical equipment.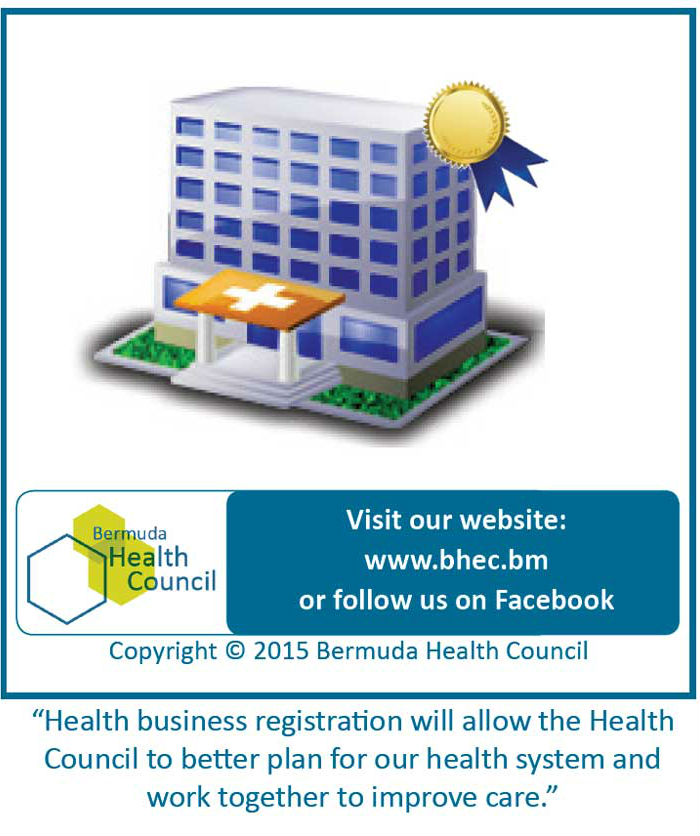 Within the next week, the Health Council will be posting the names of the health service providers who have voluntarily registered. The better care we have on island, the better health outcomes we can all expect.
We look forward to continuing and expanding on this voluntary registration process in the future. Please visit our website: www.bhec.bm for the names of the health service providers by the 2nd December 2015.
Question: I read with interest the Throne Speech where help will be given to patients with chronic diseases. Multiple Myeloma is considered to be a chronic disease. There is no cure, you have it for life but recent advances have extended the life expectancy beyond 5 years.
At the moment my monthly drug, Revlimid, costs $8,800 for 21 pills. I am fortunate to have major medical and thus only have to pay $1,700 a month. I hope that you will include Multiple Myeloma in the study.
Answer: The Health Council is indeed looking for more effective ways to provide access to care for chronic conditions; this includes working with the Ministry to ensure access to affordable medications. Although current initiatives focus on Diabetes, Hypertension, Asthma, Chronic Obstructive Pulmonary Disease [COPD] and Obesity; we understand that the medical needs of the population extend beyond these highly prevalent conditions to other diseases such as Cancer.
We are currently reviewing local data on health conditions and the costs of care and medications; this allows us to set priorities going forward. It is important that we hear from the public about your experiences with the healthcare system as there are things that people are experiencing that the data cannot tell us.
As we work with the Ministry and Department of Health, and other stakeholders, we will look into the price of medications to determine ways to improve access and allow greater opportunity for people to better manage their health.

Read More About