[Updated with video] This afternoon [Sept 15], Premier Michael Dunkley and Community, Culture and Sports Minister Patricia Gordon-Pamplin presented $90,000 to five charitable organisations focused on Bermuda's youth, as part of the Ministry of National Security's Cash Back for Communities initiative.
The Cash Back for Communities programme is possible through the Confiscated Assets or proceeds of crime initiative, where seized funds are given back to worthy organisations who are doing good work in the community.
 Claire Mello Executive Director of Youth Net, Garon Wilkinson of Bermuda Shansou Association, Tahkeesha Welch of Bermuda Netball Association and Nigel Burgess of Hamilton Parish Football Club: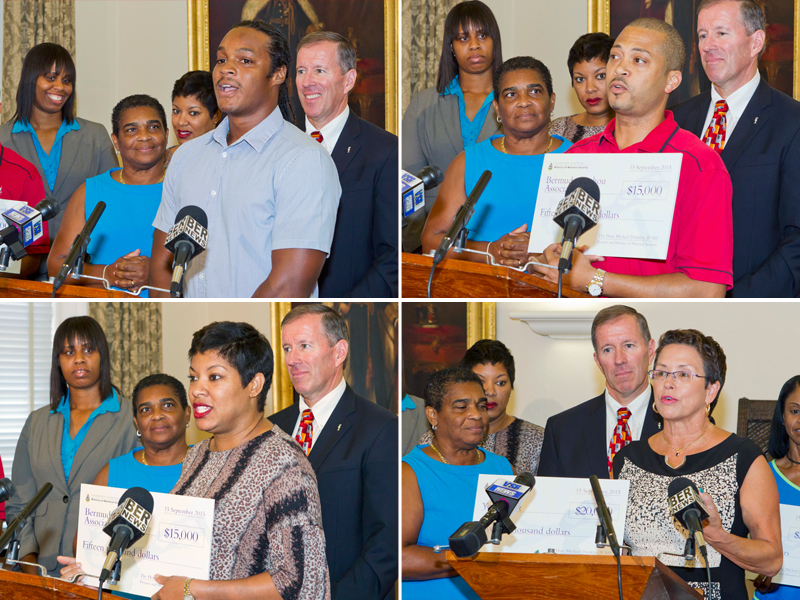 Today's recipients were:
Bermuda Shansou Association – $15,000
Bermuda Netball Association – $15,000
Beyond Rugby – $20,000
Hamilton Parish Football Club – $20,000
Youth Net – $20,000
Speaking today, the Premier said: "One of Bermuda's great strengths lies in the many community-based organizations that grace our shores – organizations that have grown out of people's desire to help and support one another.
"I'm speaking of the many community clubs, sporting associations, mentoring groups and charities that exist to care for the needy, to guide and inspire the young and to help people bond and grow together.
"They are part of the fabric of Bermudian life, part of our history and they are vital to our future. Economic conditions in recent years have pressured many of these organizations and the Government has looked for ways to ease the burden.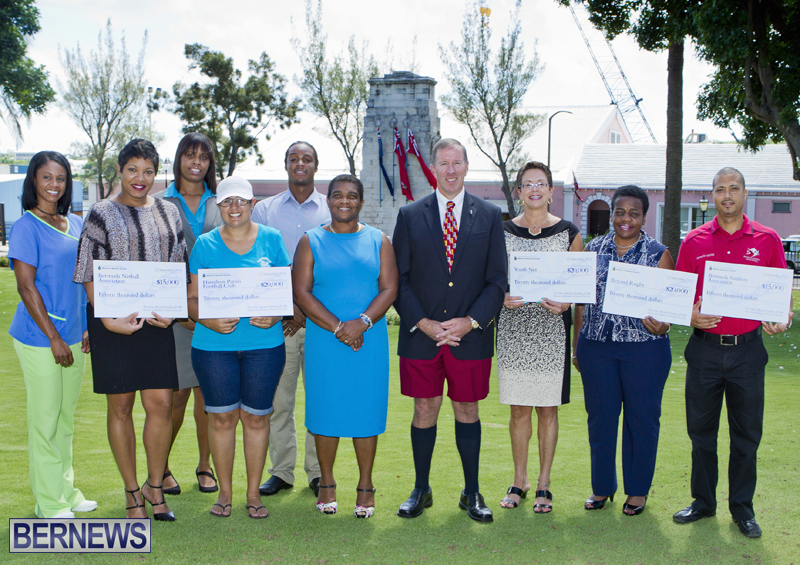 "In 2013, we promised to put the proceeds of crime back into the community to assist in the fight against violence and anti-social behavior. We subsequently passed the Proceeds of Crime legislation, making it possible to direct confiscated criminal assets back into the community.
"This led to the launch in 2014 of our Cash Back for Communities programme, in which we we directed much-needed funding support to five helping organizations.
"Today, I am pleased to announce the latest in our Cash Back for Communities' initiative with the presentation of $90,000 to five organizations whose work with Bermuda's young people continues to have a positive impact on our society.
"On behalf of the Government and people of Bermuda, I want to thank each recipient for their work with our young people. Their successes speak for themselves and I am very pleased the Government is able to help them continue their good work," concluded Premier Dunkley.
Read More About