The third episode of the Bernews podcast features a 38-minute interview with America's Cup Bermuda [ACBDA] CEO Mike Winfield in which he discusses the economics, opportunities and some of the perception issues surrounding the event.
Host Jeremy Deacon said, "Mike Winfield, the CEO of the ACBDA, is candid about the wider issues surrounding the America's Cup and the legacy that is has to leave if it is deemed to be a success.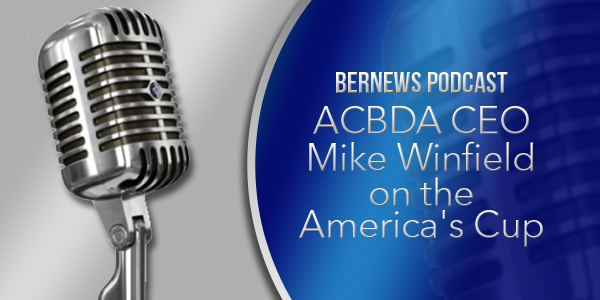 "He addresses what many saw as an information black hole in the aftermath of the America's Cup announcement. And he talks of how the bar has now been raised and how the America's Cup has restored the vision that Bermuda had lost.
"Mr Winfield admits that not enough has been done so far to engage people at grassroots level, saying: 'We have to show them that this is a whole activation of our community. I understand scepticism. People are asking 'is this about rich white folks or is this about me?'."
"He admits there is an issue of white privilege being associated with the event and says that the ACBDA needs to ensure that there is equal opportunity for all and that opportunity is not based on 'who you know'.
"We are looking to ensure that there is equal opportunity," he says.
You can also download the episode in MP3 format here, you can view past Podcasts here, and you can also subscribe via iTunes to download episodes directly to your phone or tablet.
Read More About