A new report —  "Racial Dynamics in Bermuda in the 21st Century: Progress and Challenges" — has been released, with the report one of several outcomes of the Aspen-Bermuda Partnership on Racial Equity, a collaboration between more than 60 individuals representing Bermuda's community and researchers from the Aspen Institute Roundtable on Community Change.
"The Roundtable was invited to Bermuda by Atlantic Philanthropies, to work with members of the community with a view to determining the path to racial equity," a spokesperson said.
"The Roundtable group adapted their 'structural racism framework' for Bermuda, to identify how racial disparities and segregation persist, despite the fact that the most overt and legally sanctioned forms of racial discrimination have been eliminated."
Chart extracted from the report: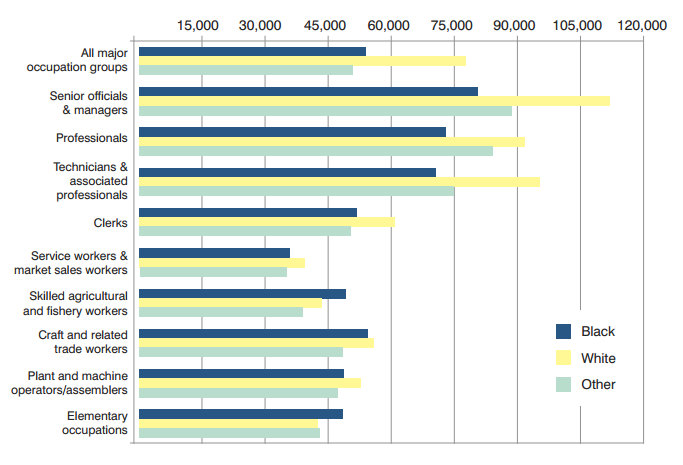 "Racism in the 21st century is generally harder to pinpoint than its more obvious incarnations, i.e., the era of slavery, and therefore harder to remedy, say the papers authors, Drs. Keith Lawrence and Raymond Codrington.
"The paper reports that historically, blacks in Bermuda have experienced poorer outcomes than whites in key domains such as education, employment and criminal justice.
"Much of the popular narrative around disparities in Bermuda focuses on the role of individual choice, behavior, cultural practices and generation-specific behaviors of young black males in creating disparate outcomes.
"The racial equity theory of change, from which the spirit of the work was derived, acknowledges that while behavior is clearly an important contributor to the outcomes that an individual experiences, it is not the sole determinant.
"There are structural factors that influence opportunities around social mobility for people of colour and they play a significant role in the creation of racial disparities. These structural barriers can undermine individual merit and make it harder to achieve success in life.
"From 2010 to 2014, seminar participants worked together to frame theories of change to reduce racial inequality in areas such as the criminal justice system, education, employment, wealth and civic engagement.
"Racial Dynamics in Bermuda in the 21st Century' was one of several products, which included the development of bespoke Racial Equity Leadership Seminars, a media toolkit and the development of customized racial equity strategies.
"The Roundtable's work with volunteers from Bermuda was made possible by seed funding from the former The Atlantic Philanthropies grants programme.
"Participants reported that the programme helped them develop a more analytical approach to thinking about and tackling race inequities, but that the effort is somewhat hampered in its efforts by the lack of hard data available.
"Now, this body of work sits with the Bermuda Community Foundation as the Aspen-Bermuda programme, through the support of a donor fund at BCF, officially celebrates its achievements with the release of this final paper. A copy of the report can be found at bcf.bm."
The full reports follow below [PDF here]:
Read More About