The latest episode of the Bernews podcast features an in-depth interview with Glenn Jones, an Emmy Award-winning journalist and former Press Secretary to the Premier who presently serves as the Director of Public & Stakeholder Relations for the Bermuda Tourism Authority [BTA].
Getting Involved With The BTA
When asked how he first got involved with the BTA, Mr. Jones said, "They called me. At the end of Media House, when it was decided that the companies were being broken up and sold, one of the Chiefs here at the BTA gave me a call to see if I was interested in coming over.
"At that point, to just help on a part time basis for a few months. I accepted that challenge. Then, near the end of that time, they decided they needed someone doing the kind of work that I'm doing on a regular basis. I started with them at part time in about mid-September of 2014, and then by the end of 2014, they decided they were going to put the job out, advertise for the job. I applied for it, and ultimately I got it."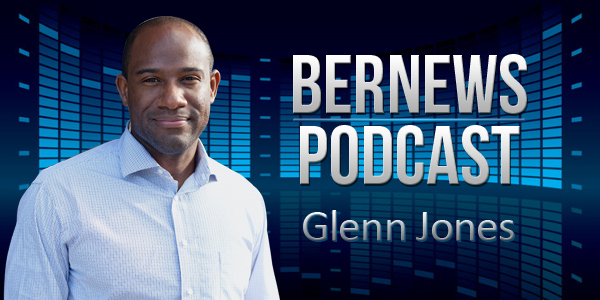 Goals & Objectives
When asked about his personal goals and objectives, Mr. Jones said, "That's a question I would answer two ways. One is, I would like them to achieve certain objectives. Those objectives are, increasing demand for people to come to Bermuda, increasing air arrivals, increasing visitor spending, stimulating in foreign investment into the tourism product, supporting entrepreneurs, growing jobs. Those are the fixed corporate objectives I want to help them to accomplish.
"On the other side, from a more, I guess, cultural and emotional point of view, I would like to see us figure out a way to get the majority of the public rallied around what tourism could mean to the future of the country. I think both of us know, our international business sector is consolidating.
"As that happens, the tourism industry is our best, fastest way to growth in our economy going forward. In order to get there, because we're such a small community, it's going to require a lot of people's effort, and growing in the same direction. We've accomplished it before, as we all know.
"The source of industry was the dominant economic engine for the country before, and I think it can be again, but it is going to require people to band together – I'm not quite seeing it yet, but I hope I can help foster it."
40-Minute Podcast Interview with Glenn Jones:
Bermudians In The Hospitality Industry
Asked about the topic of Bermudians in the hospitality industry, Mr. Jones said, "I think one of the reasons we've seen fewer Bermudians in the hospitality industry is because parents saw what was happening in the international business sector. Those kinds of white collar jobs were a draw to get people away from the tourism industry, because I think their parents saw that as a better future for their children.
"I think one of the stories that we have to tell, and we are doing it with the Bermuda Hospitality Institute, is showing young people a bright, upwardly, mobile future in the tourism industry. That means exposing them to jobs beyond just the service jobs; service jobs area a noble profession, obviously, but they do tend to top out early in people's career.
"Hotels also need people who are in sales and marketing. They need finance people, they need lawyers, they need engineers. They need a lot of other careers, that I think we have not done a good job in articulating that to young people. The Bermuda Hospitality Institute is spreading that message. I think it's going to take a while before those young people are of the age where they're actually entering the tourism industry.
"The other thing that I think is important for us to remind people all the time is that, we're not only talking about a job in a hotel when we're talking about the tourism industry; in many ways, we're talking about entrepreneurs as well. People who can own their own businesses in the tourism industry."

Bernews' podcasts aim to provide an in-depth look at current affairs, and the text extracts above represent only a small portion of the full interviews.
You can also download the episode in MP3 format here, view past podcasts here, and subscribe via iTunes to download all our podcasts directly to your phone or tablet.

Read More About