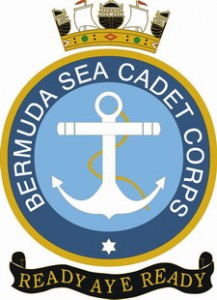 Command of the Bermuda Sea Cadet Corps changed hands on Saturday [March 19] at a Government House ceremony as outgoing commander Lt Cdr [SCC] Dwayne Trott, RNR handed over the sword of command to his successor, Lt Cdr [SCC] Michael Frith, RNR as dignitaries, Cadets and adult volunteers looked on.
The Governor and Mrs. Fergusson hosted the ceremony, and in his opening remarks the Governor warmly praised the Bermuda Sea Cadet Corps and its positive contributions to the Bermuda community throughout its fifty years of service to the island.
A spokesperson said, "Noting the importance of dedicated leadership to achieving those positive results, Lt Cdr Trott was praised by the Governor for his more than four decades of uniformed service to the Bermuda Sea Cadets, and the positive influence he has had over the lives of many hundreds of Bermuda's young people throughout that time.
"Lt Cdr Frith's commitment to and active leadership of the St George's unit was also noted by the Governor, and he commended both Lt Cdr Trott and Lt Cdr Frith, along with all of the other uniformed staff and volunteers, for their service to the community.
"Dr. Mark Guishard, Chairman of the Bermuda Sea Cadet Association, described Lt Cdr Trott's "inspirational commitment and dedication to the Sea Cadet movement in Bermuda, even inthe face of dwindling volunteer support", and noted that his work had built a strong foundation for future success under the command of Lt Cdr Frith.
"Dr Guishard referred in particular to the difficult decision made in the summer of 2014 to consolidate the Bermuda Sea Cadet operations into a single unit, TS Admiral Somers in St. George's, but went on to describe how that consolidation is already bearing fruit."
Dr Guishard said, "That was a hard choice to make, but under Lt Cdr Trott's leadership, and with the support of an excellent group of adult volunteers, including his Deputy Commander and the Commanding Officer of TS Admiral Somers, Lt Cdr Frith, the Bermuda Sea Cadet Corps is now being led by a better trained and more cohesive group of uniformed adult volunteers than it has seen for many years.
"And best of all, cadet numbers are growing rapidly as a result."
"Lt Cdr Trott also referred to the challenges of maintaining an effective organization for the Cadets in a general environment of declining volunteerism, but expressed his excitement at the positive changes that have come about as a result of the strategic focus on training and consolidation.
"He went on to express his confidence in the "very capable leadership" of Lt Cdr Frith in continuing that strategy and expanding cadet numbers even further. He also paid a very emotional tribute to those Sea Cadet officers that had come before him, and recognized them for their leadership of him during his early days as a Cadet and as a young officer himself."
Lt Cdr Trott said, "Officers such as Lt Cdr Derek Tully and the late Lt Cdr John Edwards showed me what Sea Cadets was all about. About a year before he died, I made a promise to John Edwards that I would keep Sea Cadets going after he was gone, and I am proud to have been able to keep that promise."
"Lt Cdr Trott was also recognised formally for his decades of committed service, with the award of the Sea Cadet Medal, the highest honour given by the Sea Cadet Corps, for sustained meritorious service to the international Sea Cadet movement. Presenting the medal was the visiting Honorary Area Officer for Bermuda, Captain Peter Adams, RN.
Captain Adams said, "In short, Lt Cdr Trott has put in place the key personnel to take the BSCC into the next half century, and instilled the will for the Bermudian Sea Cadets to remain contemporary and be seen in the same light as their UK counterparts."
"Describing him as an excellent ambassador for his country, Capt Adams also emphasized Lt Cdr Trott's international influence, through his representation of Bermuda at the International Sea Cadet Association, and his past role in organizing the annual Bermuda International Exchange.
"Following the ceremony, Lt Cdr Frith expressed his excitement at being given the opportunity to lead such a committed group of volunteers in the development of Bermuda's young people."
Describing his time with the Bermuda Sea Cadet Corps as a "gift," Lt Cdr Frith said, "What the island needs is young leaders, and that is what the Bermuda Sea Cadet Corps is all about. I feel privileged to be given the opportunity to lead the Corps in achieving that goal."
Read More About
Category: All