Four senior Cadets from the Bermuda Sea Cadet Corps are going to test their seamanship and leadership skills when they crew tall ships taking part in a 7,000-mile transatlantic voyage.
There are more than 50 vessels taking part in some or all of the Rendez-Vous 2017 Tall Ships Regatta to mark the 150th Anniversary of the Canadian Confederation through its founders and founding provinces, and 19 will be coming to Bermuda later this month.
Petty Officer Cadet A Buckley and Ordinary Cadet G DeBraga will be sailing from Boston to Charlottetown on different vessels; Petty Officer Cadet J Johnston will be sailing from Miramichi, New Brunswick to Quebec; and Leading Cadet M Ricketts will sail the longest leg, from Halifax to Le Havre, France, where the race is due to finish on September 3.
The costs of the four Cadets' voyages are all being supported through substantial bursaries provided by the Sail Training Association Bermuda.
Petty Officer Cadet A Buckley, Leading Cadet M Ricketts, Ordinary Cadet G DeBraga, Petty Officer Cadet J Johnston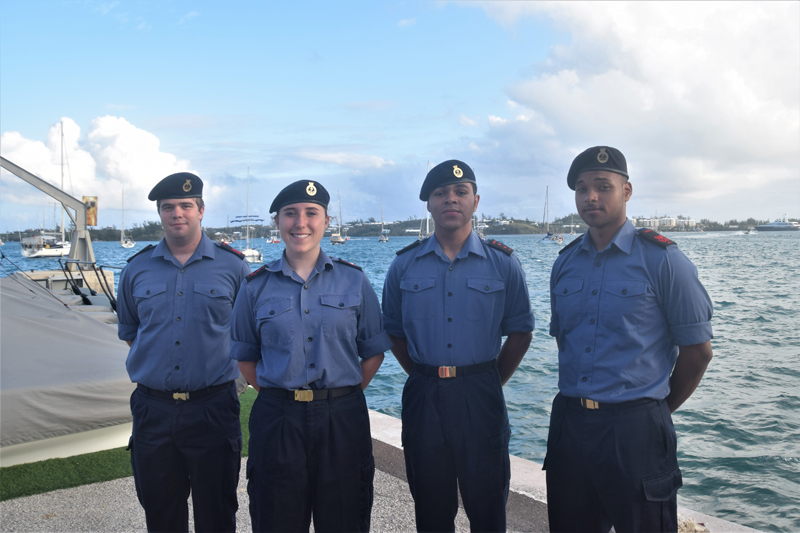 The balance of their voyage costs will be provided by the Bermuda Sea Cadet Corps, as part of the Cadet training opportunities, thanks to the fundraising efforts of all of the Cadets.
Lt Cdr [SCC] Michael Frith, RNR, Commander, Bermuda Sea Cadet Corps, said: "This will be an incredible experience for these four young people.
"Not only will it mean they can use the skills they have learned with the Sea Cadets but it will give them the experience of a lifetime."
POC Buckley is going to crew the Bark Europa and has never experienced life on board a tall ship, and said: "I am looking forward to seeing what it's like on a tall ship voyage.
"The Sea Cadet Corps has helped develop my seamanship skills, such as knot tying, navigation and boat care, which I am sure will benefit me on my voyage."
POC Johnston, who will also be on board the Europa, added: "I'm really looking forward to gaining more knowledge about sailing, meeting new people from all around the world and sailing a long distance."
He said that Sea Cadets has taught him basic seamanship and helped him get his small craft operations and VHF radio qualifications, as well as supporting him in his application to take part in the voyage.
"I'm looking forward mostly to meeting new people. To meet people from all different backgrounds that all have similar interests as me," said LC Ricketts, who will be sailing on Alexander von Humbolt II.
"I really look forward to being able to look back on the experience and being proud of sailing across the Atlantic.
"Without the Sea Cadets, I wouldn't have thought about participating. I wouldn't have known that this is something that I would want to do in the first place if it wasn't for sailing within the programme.
"It [the Sea Cadets Programme] taught me skills that will come in handy when sailing, which makes me more confident that I'm going to totally love the experience."
And OC DeBraga, who wants to join the US Coastguard, said: "I am looking forward to being on the ocean for several days and getting as much experience as possible.
"Also being part of a team and meeting different people from all over the world. To learn and to definitely grow as person. Most of all to just enjoy myself."
SLt [SCC] Sam Bennet, RNR, Training Officer for the Bermuda Sea Cadet Corps, said the aim of the Sea Cadet programme was to provide cadets with as many different experiences as possible, to help develop them as young leaders.
"When I found out that there was this opportunity to get some of our cadets on board some of the tall ships I had to make sure we got as many of them on as possible."
He was a trainee on Picton Castle in 2016 and added: "Having done a similar experience myself I knew how much the cadets would be able to grow and learn from this experience.
"I know our cadets are going to have an amazing time and I look forward to hearing all their stories once they get back."
Dr. Craig Nikolai, Project Management, Tall Ships Bermuda 2017 & Sail Training Association of Bermuda, has been very impressed by the character and maturity demonstrated by all of the Sea Cadets with whom he has come in contact.
"I knew SLt [SCC] Bennet from our days and nights volunteering as technical divers with Ocean Support Foundation when it was in its infancy.
"When I agreed to help bring life to Tall Ships Bermuda 2017 in support of our youth and the Island's history of sail training, as a trained educator, I was blown away. Commander Frith and his team have a world class programme, and it shows in the quality of their cadets.
"We are proud to have Sea Cadets representing Bermuda as trainees during Rendez-Vous 2017 Tall Ships Regatta. I only wish there were more of them so we could fill all the empty berths in each port with Bermudians.
"We need more applicants, Sea Cadets or not. One of the greatest legacies Bermuda has from having been a host port during previous races, has been that we put more trainees on board vessels than any other country. We have a long ways to go, but I hope we can do it again."
If you want to be a trainee on the final legs of the voyage, email trainee@tallships.bm , if you want to volunteer while the crews are here, email volunteer@tallships.bm

Read More About