In the latest edition of the Bernews podcasts, we talk to Finance Minister Bob Richards about the 2016/17 Budget.
In the interview he said the previous regime, when it raised payroll tax, made a critical error by not consulting with IB in particular, but he said the Fiscal Responsibility Panel, set up last year to look at the tax regime, had consulted with IB executives and that they also "consulted widely with businesses".
He said: "When we went to talk to IB about the needs of the Government to fix this deficit problem, they were on board." He said the payroll tax rise would not drive wealth overseas and asked if IB was thinking of re-domiciling due to tax rises, the Minister said "no".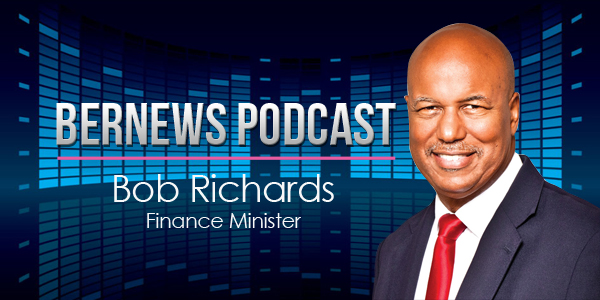 "They want to be here, they want to be part of the solution," the Minister said. Asked if he was confident that despite the payroll tax increase and the resulting rise in labour costs that IB would stay in Bermuda and keep the number of employees they have now, he said "yes".
On the rise in labour costs coupled with last year's rise in HIP and social insurance, the Minister was asked if it would put businesses off employing new staff.
"There is always a risk of that, but again, we have to weigh our options," said Mr Richards. "In the world that I live in, in this office, we have to do something. There is no perfect solution."
46-minute podcast with Finance Minister Bob Richards
On diversification of the economy, Mr Richards said: "Diversification and new business opportunities will present themselves to Bermuda if Bermuda continues to be a good place in which to do business."
On Government spending, the Minister said that Government had been working on public sector reform ever since the SAGE Commission. "It has been extraordinarily difficult, slow and frustrating, but we are still working at it. To some extent it is an issue of corporate culture."
He said feedback from IB was that they did not want to be paying any more taxes and "have it wasted inside Government". He said there was no timeline for cutting spending, but added: "We have to do it as soon as possible".

Bernews' podcasts aim to provide an in-depth look at current affairs and different issues affecting the Island, and the text extracts above represent only a small portion of the full interview.
You can also download the episode in MP3 format here, view past podcasts here, and subscribe via iTunes, or download the Bernews app and enjoy advance listening, with each episode available for download directly to your phone or tablet earlier than it is released on our main site.
Read More About