Minister of Health, Seniors and Environment Jeanne Atherden recently presented the Healthy Lunch School Challenge Awards, with the Minister saying that "Helping our young children learn how to eat well and to stay healthy will reap long term dividends that all Bermudians can benefit from."
Minister Atherden said, "Healthy eating can assist in young children learning well, growing well and staying healthy and work toward our vision of "Healthy People in Healthy Communities".
"This year the School Nurses started a monthly School Lunch Check Program to assess the nutritional content of student lunches. The School Nurses have shared that young children enjoy demonstrating the healthy food options in their lunches during these school lunch checks.
"This challenge promoted healthy eating habits to primary and middle school students through utilizing the Bermuda Dietary Guidelines and the EatWell Plate. The response from schools, teachers, parents and students is commendable as this year we had entire schools and entire year levels participating.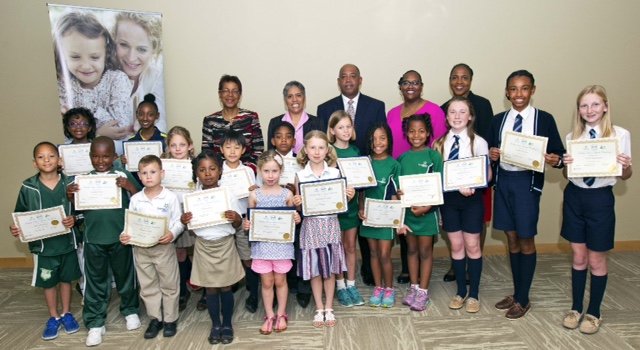 "Teachers taught students the lesson plans developed by Nutrition Services. Parents along with students shared together in developing healthy trash free lunches. The lunches were evaluated by the teachers for nutrient content, eye appeal, nutrition explanation and originality of vegetables.
"First, second and third place winners from each school were submitted with amazing pictures of healthy lunches that they prepared. A panel of judges reviewed the submissions to select overall first, second and third place winners from each year level. The practical application and understanding of healthy eating practices is evidenced by all submissions.
"As the Minister of Health, Seniors and Environment, I would like to take this opportunity to thank the Well Bermuda partners from the Department of Health, Nutrition Services, the Ministry of Education, the Bermuda Dietitians Association and Argus Group of Insurance who executed this initiative though support, time and effort in promoting a healthier Bermuda."
2016 School Lunch Challenge Awards Recipient List:
P1
First Place: McKenzie Kowalski
Second Place: Christina Lee
Third Place: Dylan Walker
P2
First Place: Genesis Payne
Second Place: Jahzy Simmons
Third Place: Tristan Orchard
P3
First Place: Taylor Herzog
Second Place: Masaki Kitade
Third Place: Maddox Foley
P4
First Place: Kennedy Kowalski and Celia Robinson
Second Place: Taliah Wade
Third Place: Robin Pearman
P5
First Place: Keziah Smith
Second Place: Ethan Clarke
Third Place: Amy Paulos
P6
First Place: Kezjah Weeks
Second Place: Isabel Roe
Third Place: Max Yashar
Y8
First Place: Eilidh Redmond
Second Place: Amber Simons
Third Place: Hope Dragonetti
Read More About