The Bermuda Swimming National Championships are being held at the National Sports Centre from May 19 through May 22, with Bermuda National Swimmer Julian Fletcher not only taking part, but lending his experience to the island's children, as well.
Leading up the event's start, Mr. Fletcher, along with his Trojan Swim Club teammates, 2012 Olympians Azad Al-Barazi [Syria] and Rafa Alfaro [El Salvador], visited Prospect Primary School in order to "discuss our Olympic journey, and inspire the students to pursue any dreams that they may have, whether academic or athletic."
Mr. Fletcher told Bernews, "Azad Al-Barazi discussed his experiences in the London Olympics, and Rafa Alfaro and myself talked about our swimming careers, and how we got involved.
"Rafa Alfaro and Azad Al-Barazi both were part of the 2012 Olympic games in London and these athletes are competing for an Olympic spot for their respective countries in Rio 2016. We are in Bermuda this weekend to reach our Olympic qualifying times at the Validus National Swimming Championships, May 19-22. We all swim under Dave Salo, at the Trojan Swim Club in Los Angeles, CA."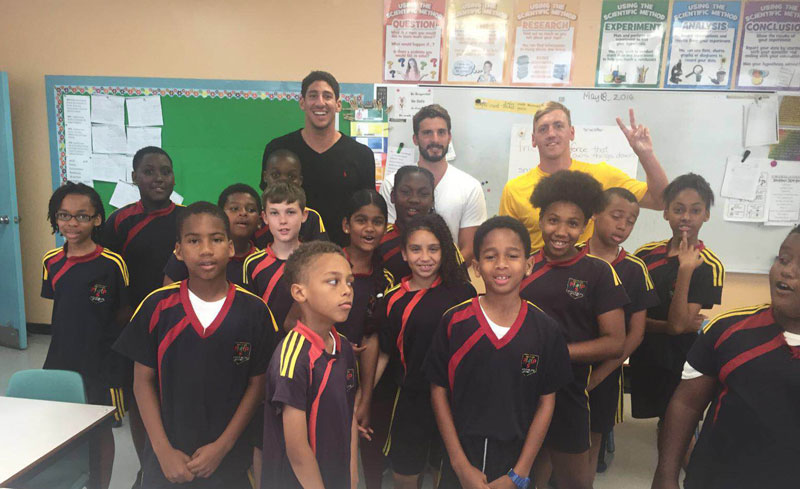 "Al-Barazi wants to reach the A-Standard in the 100 BR (1:00.57) and Alfaro is vying for an Olympic spot in the 200 IM (2:00.28).
"I am hoping to reach the B-Standard in the 100 BR (1:02.69) to secure an Olympic spot for Bermuda. I started a 2-year training cycle in Los Angeles, CA in 2014, and have recently seen improvements in my times.
"I've been working tirelessly on technique to try to be more efficient in the water, and strength and conditioning training has been increased to five times per week.
"It would be great to have a strong home crowd represented at the Nationals, which run this weekend."
For more information about the Bermuda Swimming National Championships, contact Ben Smith at manager@swimmingbermuda.com.

Read More About