Bermuda resident Jason Kim is getting set to take a year-long trip alongside a friend as they endeavour to volunteer their time and effort in a number of places, including a Ugandan co-operative that the pair hopes to help re-structure starting next month.
While the duo plan to be abroad for a year, Mr. Kim says "I absolutely love Bermuda and hope to come back after my one-year leave," following a trip that promises to encompass "three continents, 25 countries, and 500 days"
Mr. Kim said, "My friend and I are taking a one-year sabbatical to go on a trip around the world to volunteer in various places, including a Ugandan co-operative that we are hoping to help re-structure starting August 2016.
"As part of our trip, we've started an online blog to document our experiences, and also to write about Bermuda. Mainly, we want to advertise Bermuda as a place of opportunity, beauty, and incredibly nice people; and i would've never had the opportunity nor the funds to travel the world without my job in Bermuda.
"Andrew and I met at the University of Ottawa. Upon graduation, our professions took us to different parts of the world. Toronto for Andrew and Bermuda for myself. With our shared interest in travelling and volunteering, we decided that we needed to do something spontaneous before hitting the age of 30, and what better to do than explore the world.
"We both agreed to a three month trip, then a six month, and ended up with 500 days – pretty much until the money dries out.
"As part of our journey, we wanted to use the skills/knowledge that we've gained within our professional lives to give back to the communities: Accounting for myself and Risk Management for Andrew. We've linked up with numerous NGO organizations to provide our services as we travel the width and breadth of Africa."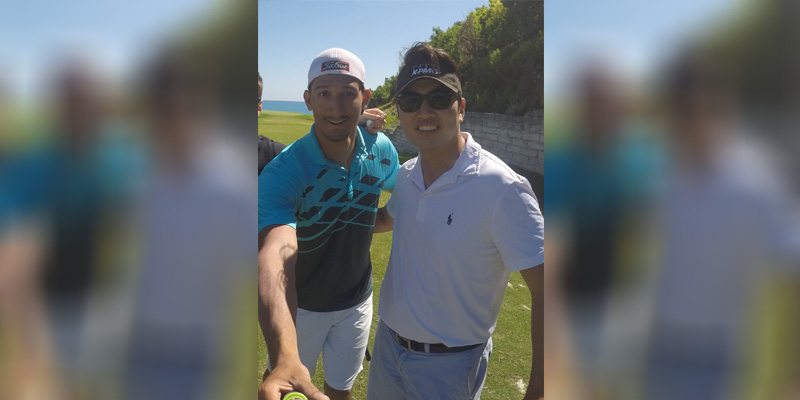 "Some of the work we will be doing include partnering with Knowledge Empower Youth [KEY] which works with schools in Kenya to build container libraries in less fortunate areas. We've done various projects with them prior to the trip and will be working with them closely to develop budgets, create business plans, and perform mass data analytics.
"We've also partnered with the Kayunga District Farmers Association [KDFA] in Uganda where we will be assisting with day-to-day accounting services, and leading the transition to a paperless office.
"Lastly, we will be working with Hope for Orphans and Rural Development [HORD] in Uganda, assisting with the daily activities of running an orphanage, and assisting the HORD team in training the women in the village to be self-sufficient.
"With our journey, we hope to promote the dream of travelling to many of the reluctant individuals in Bermuda and around the world emphasizing that with a little planning and budgeting, that this dream is possible for anyone.
"More importantly, we also wanted to create awareness as we go to some of the more neglected areas of the world and hopefully encourage all to give back to the community by using the skills/knowledge gained in our day-to-day professional lives, not only worldwide but locally as well.
"The impact and satisfaction that Andrew and I have experienced up to today in working on projects with these organizations has been incredibly rewarding. We wish to reach out to all young professionals to give back."
To follow the pair's journey, visit their website.
Read More About