The Bermuda Zoological Society [BZS] lecture series will include a talk titled "Island: A Delicate Balance" – set to be presented in two parts – on Thursday, September 22 at 7.00pm, with doors opening at 6.30pm.
The free event, open to the public, will see the first part of the lecture presented by Richard Winchell, President of the Bermuda Zoological Society, on the topic of "When is an island not an island?", while the second part will be presented by Dr. Wolfgang Sterrer, former Curator of the Museum of Natural History, on the topic of "Bermuda's biodiversity – where did it all come from?."
The event poster says, "Looking at what the definition of an island is, and why islands are the focus of the exhibits at the Bermuda Aquarium, Museum and Zoo.
"Human contact and continuous settlement of Bermuda brought about changes in Bermuda's biodiversity, largely mediated by human transport. While the effect on the near-shore marine environment was relatively minor, terrestrial changes have resulted in the wholesale transformation of Bermuda's landscape."
"Open to the public. Space is limited. Please visit our website to register online to attend."
For more information, contact Lisa Greene at elgreenebda@icloud.com or on 293-2727 [extension 2123]; to register, visit the website.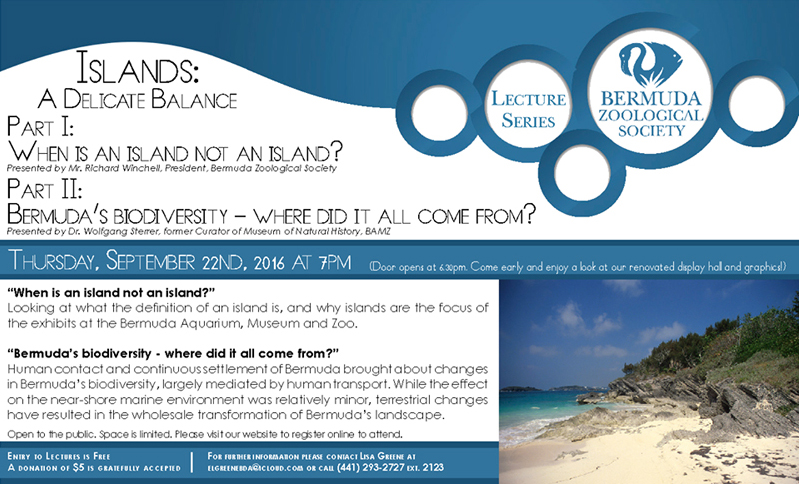 Read More About
Category: All, Environment