Earlier today [Sept 28] Minister of National Security Jeff Baron formally opened the Substance Abuse Prevention Faith Based Summit, which is taking place today and tomorrow as part of this year's Recovery Month celebrations.
Speaking at today's event, Minister Baron said, "As the Minister of National Security it is indeed most gratifying to be here amongst Bermuda's faith community.
"History tells that a person's faith/a person's belief system have been the hallmark of healing and success for a healthy community.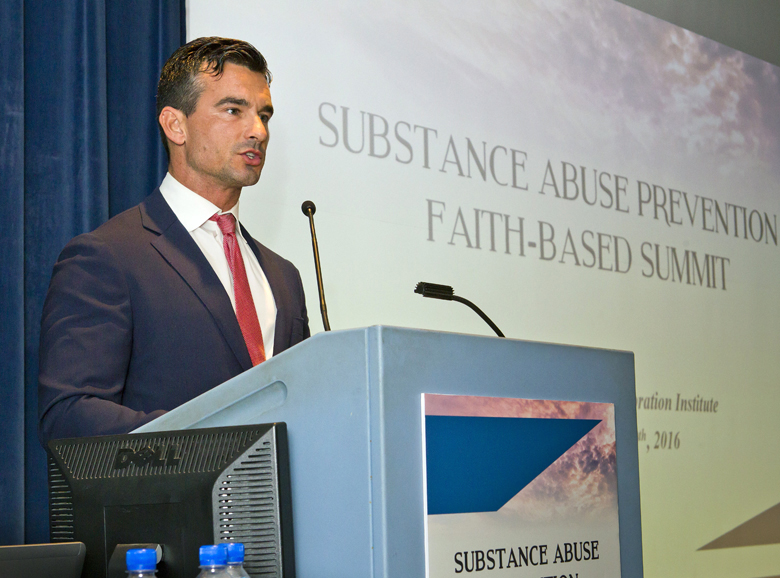 "Today I am with you and the staff of the Department for National Drug Control under the direction of Ms. Joanne Dean to extend a warm welcome as you prepare to receive information on working together to prevent substance abuse and on what role you can play in the treatment of those that have been affected by substance abuse on our island.
"As I am sure, many of you are aware; the context which substance abuse use occurs is complex. It involves an interconnected set of social influences such as public policy, family, friends, availability, religious beliefs and traditions and social norms as well as personal factors, including personality traits, biological/genetic characteristics and reasoning ability.
"Because of the complexity of these influences, planning efforts to prevent substance use and related problems must consider many social and personal factors in order to increase the likelihood that a particular drug prevention initiative or program will be effective.
"The Department of National Drug Control's demand reduction action plans for the prevention of drugs include educating the public about the risks and methods for preventing engagement in, not only harsher illicit drugs such as heroin and cocaine, but also the inappropriate use of alcohol, tobacco and marijuana which in many instances have been reported to be the precursors to the use of the harsher drugs.
"The action plans also include the implementation of research-based prevention programming and methodologies to effectively reduce drug use amongst youth and to formulate community partnerships with entities such as members of our faith community.
"The 'Manual For Prevention Specialists: People of Faith Partners in Prevention Engaging the Faith Community in Substance Abuse Prevention', reported on the ongoing prevention research, which continues to show that the faith community can be a critical link in the overall effort of substance abuse prevention.
"It also shows that religion and spirituality can provide protection from substance abuse, and that the faith community can play an appropriate and essential role in responding to this immensely important and complex problem that historically has been left almost entirely to the 'secular' world.
"The Department for National Drug Control is the lead Government Department in addressing drug prevention and treatment supported by research and has the responsibility of ensuring the implementation of Bermuda's National Drug Control Master plan.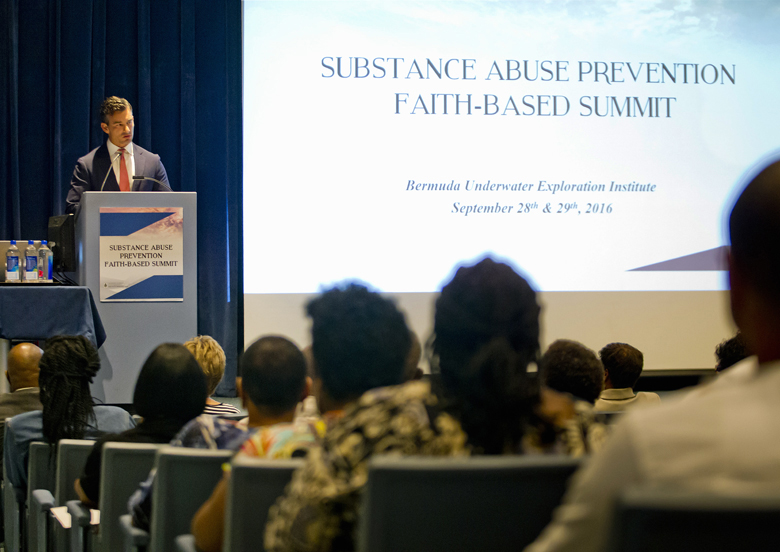 "Identified goals for the DNDC are to reduce drug-related harms by recognizing the drug problem as a major public health threat; to minimize the immediate concerns to the community in the context of the principal harms of drug use and abuse such as crime, public nuisance, drug-related violence, physical and mental health problems, social and community degradation.
"The Department for National Drug Control is seeking your assistance to provide awareness and knowledge of the nature and extent of alcohol, tobacco, and other drug use in our community and on addiction and the effects, not only on individuals but on the family unit. We are looking for your support to re-set and reinforce norms pertaining to the misuse and abuse of substances.
"The 2015 survey of middle and senior school students on alcohol, tobacco and other drugs reported that the average age of first use is 12 years, meaning that there are students drinking alcohol earlier than 12 years of age. Alcohol is easily accessible for young people; alcohol impairs judgment leading to poor decisions about engaging in risky behavior, including drinking and driving, sexual activity [such as unprotected sex], and aggressive or violent behavior.
"Research shows that young people's brains keep developing well into their 20s. Alcohol can alter this development, potentially affecting both brain structure and function.
"This may cause cognitive or learning problems and/or make the brain more prone to alcohol dependence. This is especially a risk when people start drinking young and drink heavily.
Minister Baron pictured with Bishop Nicolas Dill, Julie Stevens, Adjunct Professor for the University of Oklahoma College of Liberal Studies, Rev. Dr. Leonard Santucci, DNDC Director Joanne Dean and DNDC's Shavana Wilson.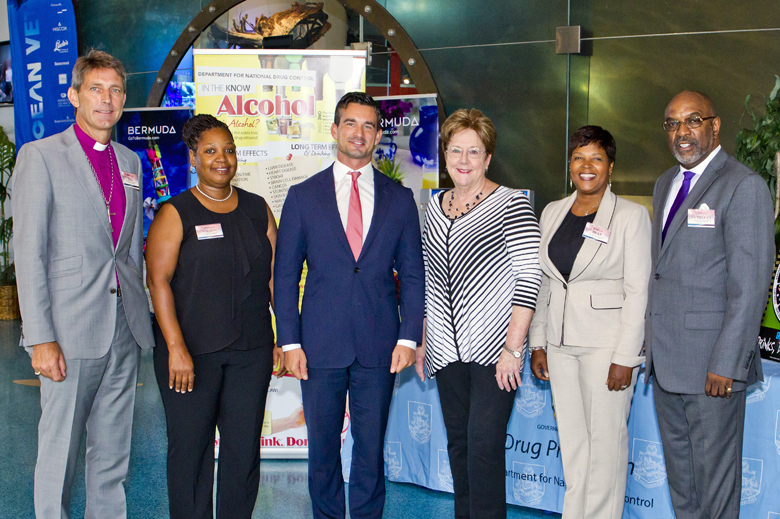 "The faith community's role is vital as you have the capability of playing a significant role in setting and reinforcing norms around alcohol and drug use," the Minister continued.
"Faith communities can:
"Respond to questions and concerns related to helping people develop personal guidelines that can help make them safe, legal and appropriate choices about substance use and nonuse;
"Provide support for youth and families;
"Help members understand the spiritual dimensions of substance abuse problems and prevention;
"Work with other institutions and organizations within the community to design and imple¬ment community-based drug prevention efforts.
"As you receive the information on substance abuse that will be communicated to you today, we trust that you will utilize it to stay connected and use the Department for National Drug Control as a resource for any issues or concerns that you may have about substance and begin the process of working together for a healthy and successful community.:

Read More About