[Written by Mikaela Ian Pearman]
Imagine a dinner experience where you have appetizers at one restaurant, mains at another and dessert and after dinner drinks at yet another restaurant. Kind of strange, right?
Well that was exactly my experience on Wednesday night as I was invited to participate in a "Progressive Dinner" at the Fairmont Southampton Resort with a cohort of fellow media folk to promote the resort's 3-3-1 Challenge, where diners are encouraged to eat three courses at any of the hotel's restaurant's three times to win a free night stay.
The evening started with cocktails in the lobby of the hotel and a meet and greet with David Ansted Executive Chef, Anna Brudel, Marketing & Communications Manager and newly appointed General Manager, Kiaran Macdonald, who is also the Regional Vice President, Bermuda and Caribbean.
The group was then whisked to the Newport Gastropub for starters. I was expecting something simple, but nope, we were treated to a mini feast. Starting with a Scallop Gravalax, we moved on to a few sharing platters with a variety of cheeses, nuts, olives, dips, ceviche and more.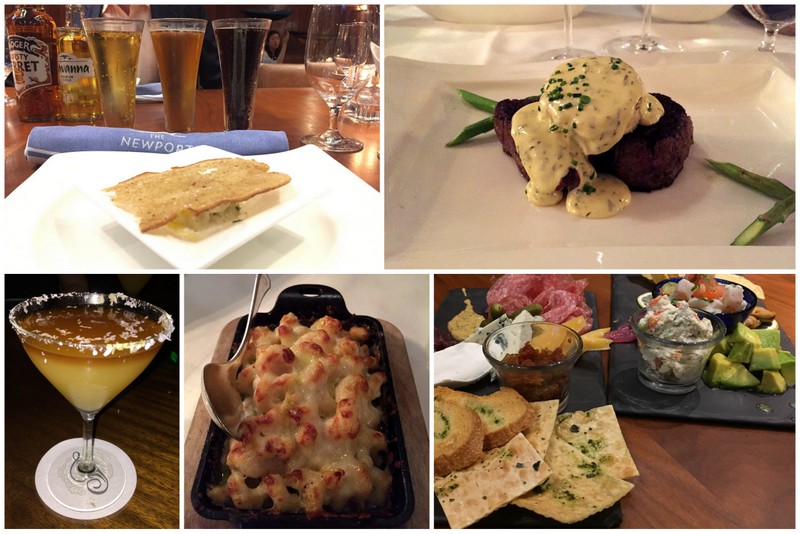 This was followed by Swiss Classic Fondue – essentially a vat of melted cheese that I couldn't stay away from. It was a lot of food for apps but everything was delicious with a mix of salty, sweet, savoury and spicy notes.
The starters were served with a flight of beer – Savannah Cider, Fursty Ferret and Dockyard Porter, which were all welcomed additions to the rich appetizers.
We then moved down to The Waterlot Inn for an incredibly classic Fairmont Southampton dinner. Tableside Caesar salad was a mini appetizer followed by a main of choice. Sides were pre-selected – Truffle Mac and Cheese, Potatoes Gratin, Haricot Vert and Creamed Spinach.
For my main, I chose the Waterlot Oscar – Tenderloin Medallions with a Jonah Crab Cake, Bernaise and Asparagus. I haven't had steak in months and this was the perfect time to indulge in red meat. The steak was of course cooked perfectly with a nice crust and excellent seasoning. The crab cake paired perfectly with the beef and the creamy bernaise set off the dish.
The sides were decadent with the Gratin and the Mac and Cheese as stand out favourites. Waterlot is always going to be the place to go for an indulgent dinner and this was no exception.
Finally, we headed to Jasmine Lounge for dessert where we were treated to a Coconut Rum cocktail and a dessert sampler with Chocolate Molten Cake, Mango Cheesecake and an Apple Tart. Each dessert was bite sized [and tasty], which was appreciated after the heavy dinner.
The food was just as excellent as the concept. It was a fun dinner and also educational. At each restaurant, we met a few young Bermudian chefs involved in the resort's apprenticeship programme. It was great to see so many young Bermudians involved in the culinary world and learning how to cook in fantastic restaurants.
The Fairmont Southampton 3-3-1 Challenge runs until December 15.

Read More About
Category: All, Entertainment, News