New outdoor fitness equipment has been installed at the National Sports Centre as an added – and free – way to encourage people to get fit.
Sponsored by Butterfield and Vallis, there are five different pieces of equipment: full bar exercise, multi-level bars, horizontal ladder, two-level horizontal bars and sit up benches.
Sean Tucker, Chairman of the NSC's Board of Directors, said: "On behalf of the Board, I am pleased to be a part of this official opening.
"Butterfield and Vallis has a fine history of community benevolence, and the Butterfield family, in particular, is renowned in Bermuda for its involvement and commitment to sport, health and wellness.
"We at the National Sports Centre are grateful for their generosity and kindness and we encourage everyone who trains at the National Sports Centre to take advantage of our new facilities.
Craig Tyrrell, Sean Tucker, Jim Butterfield & Spencer Butterfield: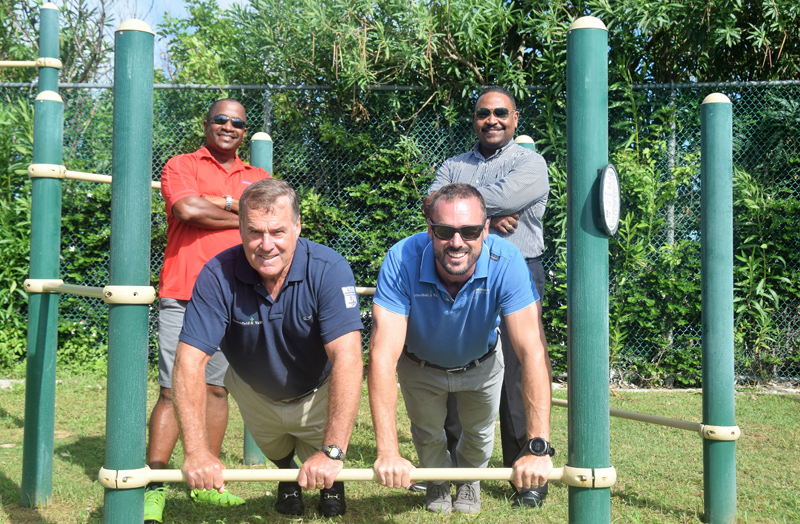 "And to those who haven't yet seen what we have to offer we invite you to come and see what the fuss is all about."
Spencer Butterfield, a well known runner and the COO of Butterfield and Vallis, said the firm were strong believers that personal fitness through healthy eating habits and regular exercise was important.
He added: "We're excited about the high quality facilities available to the public at the NSC and encouraged to see them well utilized.
"The pool always seems busy and the track and field get frequent use, as does the gym. The new equipment will complement these and enhance the overall options for athletes.
"I personally enjoy obstacle course racing and have enjoyed seeing the growth of the sport both locally and internationally.
"These new features are an excellent way to get an all-round body workout and are timely with the popularity of shows like American Ninja Warrior and events like Spartan, Tough Mudder and our very own Bermuda Triple Challenge.
"Users can run the track or sprint the field for a great cardio workout and utilize different features each time they lap the equipment for upper body and core focus. It's a great way to break up a workout and build strength.
"We hold monthly walks and creative sporting activities through our Wellness Committee and we're excited to have our staff try out the equipment in the very near future."
Craig Tyrrell, the NSC's Operations Manager, said the new equipment was on the North Field, adding: "It is free to the public to use the walking track and this gives people the opportunity to expand their workout at no cost."
He added that the equipment can be used by anyone over the age of 14 and said: "As with any physical activity, we always encourage people to get approval from their physicians before attempting any type of workout.
"Our aim is to create a health community. The NSC stands on four tenets – Move, Develop, Train and Achieve. It is our hope that the presence of this equipment will encourage people in the community to move in the first instance.
"Which will lead them to develop a healthier lifestyle, train regularly and ultimately achieve their personal fitness goals."
Read More About