A group of young Bermudian entrepreneurs are gearing up to rent three-wheel rental scooters to visitors early in the New Year, and are hoping the law to allow it passes in Parliament.
"We're very excited," said TJ Clark, 33, one of four partners working on a project to bring Scootcoupe vehicles to the Island.
"We're hoping for the Bill to pass and it's just an overall great, enthusiastic feeling for the whole team."
Half of the entrepreneur team team, Justin Robinson [left] and TJ Clark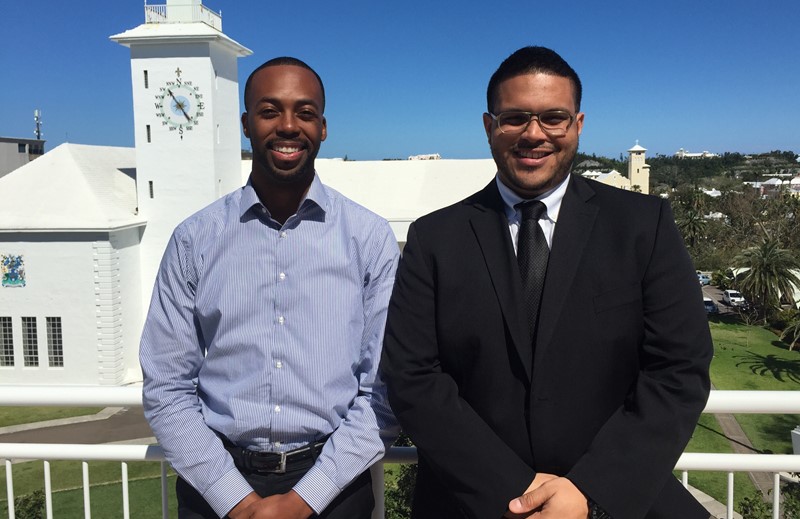 Mr Clark and his business partner Justin Robinson won support for their idea from the Bermuda Tourism Authority [BTA] in 2014 as a result of the Tourism Experiences investment process, but the lack of legislation put everything on hold.
They also encountered a set of local entrepreneurs with a very similar Scootcoupe plan. However, instead of competing they decided to collaborate.
Now Clark and Robinson have merged with fellow Bermudians Tulani Bulford and Paul Ross to create an experience slightly different than what was originally planned.
"Seven out of 10 tourists have never ridden a motorcycle in their life," said Mr. Bulford, 36, "but most tourists have driven a car.
"So we felt this vehicle [Scootcoupe] was a slam dunk. It hits all the safety aspects and it gives the users the freedom to roam around the country."
The group says safety is of paramount importance and the main reason they went with Scootcoupe. They cite the following vehicle specifications:
150cc engine
Three-point safety harness
Helmet required
Roll cage to prevent riders being trapped and/or head and neck injuries
Two-passenger maximum
Lockable trunk and glove box
According to Mr Bulford, promoting the Scootcoupe rental experience to visitors under 45 years-old is a major part of their plan, especially given the double-digit growth in younger visitors seen in BTA air arrival statistics this year.
The new legislation, if passed, is expected to allow vehicles no more than 60 inches wide and 115 inches long, which would include Scootcoupe and other makes like the Renault Twizy.
"The BTA is on record as supporting the introduction of small rental vehicles for visitors. At the Annual Bermuda Tourism Summit, local hoteliers similarly voiced their support," the BTA added.

Read More About