Jessica Riederer used to get nervous sharing her wildlife photos online, never mind showing her prints to strangers. Thankfully, that's no longer the case.
The 42-year-old recently released her first book – Bermuda: Wildlife and Landscape Images, a collection of more than 100 carefully taken photographs of the island's land and sea creatures in their natural habitats.
Her goal is to educate people about the wildlife that exists on our shores and encourage them to protect these species for generations to come.
"I started this book a few years ago as something just to give to family and friends," she said. "It was 250 pages of wildlife photos from Bermuda, the United Kingdom and the United States, and then I started thinking I could do something more with these and develop the Bermuda section.
"For the last 18 months I have been focused on the Bermuda scenes. It's been incredibly challenging, but I can't believe I actually finished and am so proud of the final product.
"In the past I have tended to be quite harsh with myself and critical of my own photography and a lot of times I'm hesitant about sharing my work, but this is the first time I've ever been 100 percent proud and happy with something I've created."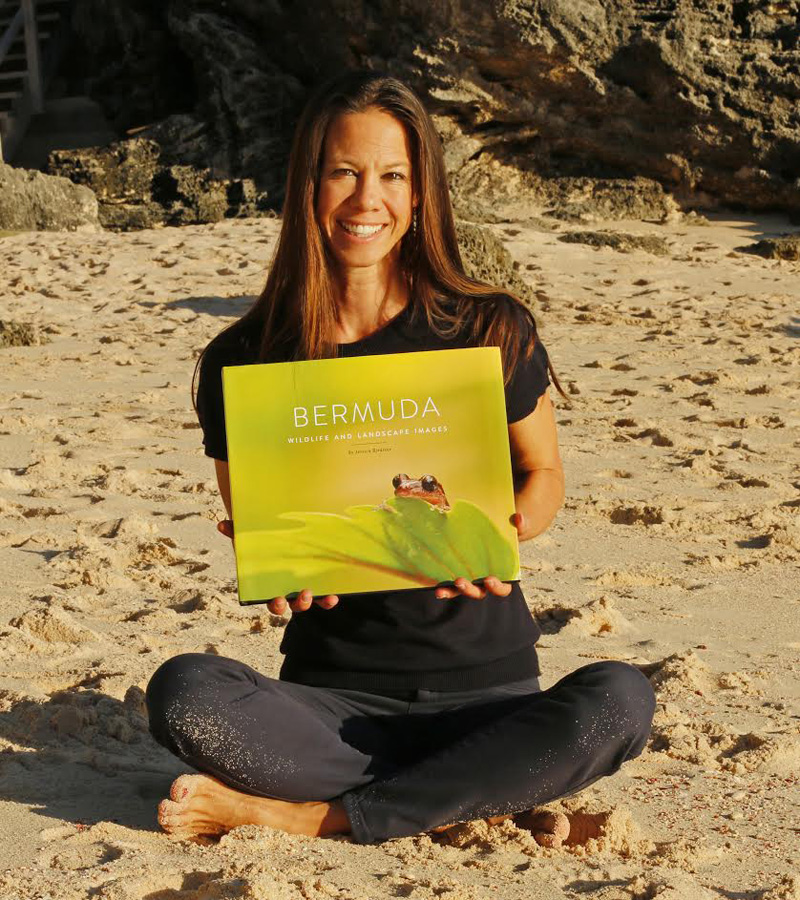 Ms Riederer's work isn't just about point and click photography. In most cases, it takes countless tries and extreme amounts of patience to get the right picture of each species.
"It's also weather dependent," she explained. "In the book I share a little bit about how I got each shot. Some images might look pretty basic, but in reality, they took about six months of me trying to get that photo.
"What I am trying to do is enhance Bermudians and visitors understanding and appreciation of wildlife, nature and our coastline. There are lots of other environmental groups trying to do that, but I think this book is quite unique in that it's not just photography there's also a lot of information in there that everyone can read and enjoy.
"It's not a science book, it's designed for people of all ages."
Ms Riederer grew up in an animal-loving home on the island. They had horses, cats and rabbits on their property in Southampton and as she got older she ventured into careers working with many different species of animals.
She worked as an equine trainer, before trying her hand at training dolphins at Dolphin Quest from 1997 to 2003.
One of her goals with the coffee table book is to give people a rare up close and personal look at animals they see in passing all the time, like the catbird.
"I hope if readers see these images and learn a little more about these animals and they might gain a greater sense of appreciation for what's all around us. Some of these animals are critically endangered so hopefully this will help protect them in some way," she explained.
Getting the book finished and the hard copies on island in time for Christmas was a feat in itself.
New to the printing process, Ms Riederer had to go through the lengthy process of working with book designers, editors and publishers to see her vision come to life.
"At first I was doing everything by myself, but then it occurred to me I should work with a designer and other people to get this project done right. It was such a huge learning curve.
"Figuring out everything from printing and the paper quality and there were some issues with the cover and wrap. It felt like one thing after the other, it was crazy, but thanks to UPS I was able to get the first batch of copies here for the holidays."
So far feedback has been extremely positive. People have been buying the books as presents for loved ones overseas and emailing Ms Riederer to update her on what they've learned or discovered through the collection.
"It's not specifically a kid's book, but a lot of people have bought it and are reading it and sharing it with their children to learn about the animals," she said. "I'm loving getting to see it being incorporated into family homes.
"It's a table top book with a lot of information, but it's not designed to just sit there. I want people to pick it up and look at it time and time again and have it be more of a conversation piece for people's friends and family."
Ms Riederer's next step will be to create a picture book for children.
Right now, there are 100 limited edition signed copies of Bermuda: Wildlife and Landscape Images currently for sale exclusively at Bookmart at Brown & Co for $69.75. For more information on the photographer or to see her collection of images online visit here.

Read More About
Category: All, Entertainment, News