April 3-7 is Public Health Week and there will be a number of special events including pop up stands at Shelley Bay and Somerset Marketplace offering free fruit to those who complete a short survey, as well as a 'Move-a-Thon' at City Hall.
Speaking at a press conference today, Minister of Health and Seniors Jeanne Atherden said, "Public health is everything a community does to ensure the population can be healthy. This includes not only immunizations, prevention, and healthy environments that are free of disease-spreading animals; but also ensuring access to healthcare.
"April 3-7 is Public Health Week. Too often, all the services that government provides quietly behind the scenes are not recognised, and I wish to shine a spotlight on the people who provide travel shots, test seawater, approve plumbing designs, place rat bait, provide documentation to import prescription drugs, monitor communicable and non communicable diseases, check the health of school children, and many other important services. These people get on with what keeps our community healthy and safe.
"All this week there will be events celebrating Public Health, including pop up stands at Shelley Bay and Somerset Marketplace, where those who complete a short survey will get free fruit, and, on World Health Day this Friday, a Move-a-thon that will have a variety of people leading exercise classes from 10am to 2pm at City Hall.
"The Move-a-thon will be a great chance for anyone to participate. We are hoping many people will come for anywhere from 20 minutes to four hours, so we can get many more steps in our Billion Steps Bermuda campaign.
"The Move More Bermuda team is part of an international competition to clock our steps and we are currently ranked an impressive 75th out of 600 international teams, and we really would like to move up in the ranks, so come out and join us. There are 20 minute sessions back to back so there is something for everyone from kickboxing to old style aerobics.
Flyer showing the Public Health Week events [PDF here]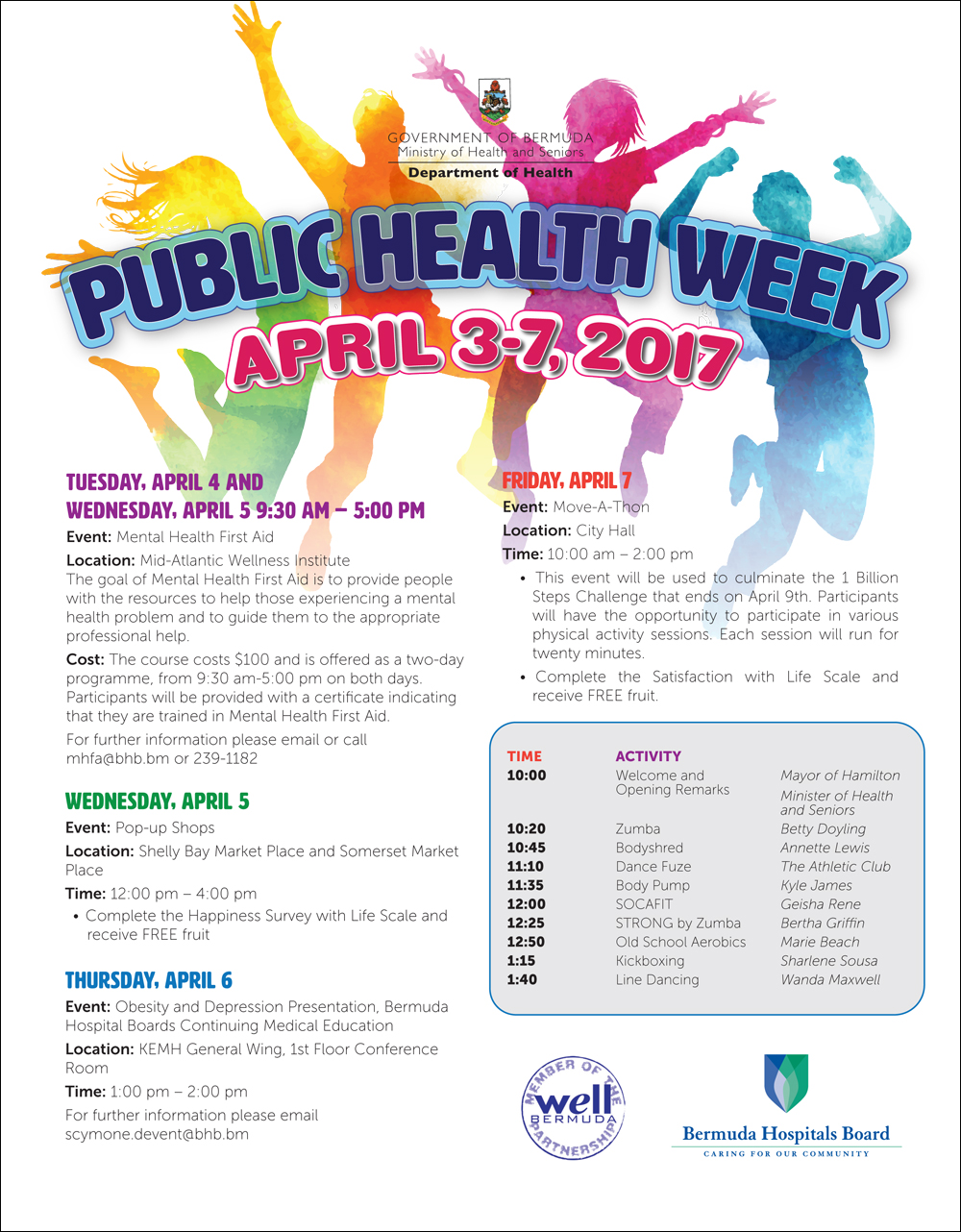 "In addition, we've launched a new campaign called 'This is Public Health'. You will soon see stickers like this popping up all over the island highlighting the many actions Bermuda takes to keep our community safe and healthy. The campaign will highlight the broad range of things that public health is, such as:
no-smoking signs, to remind us that Bermuda limits where people can smoke to reduce take-up and prevent second-hand smoking;
safe restaurants, to remind everyone that regulation is in place to assure hygiene standards and prevent the spread of disease;
mosquito traps, which have been so important with the recent Zika outbreak throughout the regions;
clean water, which we all need to stay well hydrated and healthy;
walking trails, to ensure open, free access to places where we can enjoy physical activity and family time;
as well as other basics like community nurses, immunizations, etc.
"Follow us on #healthbermuda for photos of "This is Public Health" stickers in position, so you can see public health in action.
"Prevention and wellness are, as we all know, essential to ensure the public's health. A helpful acronym to remind us all of this during public health week is 'HEAL' which stands for: Healthy Eating and Active Living. This is what will reduce our incidence of obesity and overweight and the chronic non-communicable diseases that can result from poor diet and lack of exercise: things like diabetes, kidney disease and heart disease.
"The more fit we are as a population, the less we will need to spend on health care, and that means lower healthcare premiums.
The 17-minute live video replay is below:
"Insurance coverage is an important part of securing our population's health. We are starting to see an improvement there, and we need to keep going. This year, I'm very pleased to announce that the mandated, basic package of insurance is intended to decrease by $4.07.
"This Standard Premium Rate pays for the basic standard health benefits, and is embedded in every package of insurance by law. Last year, we did not increase premiums, and thanks to the collective efforts of everyone involved in providing healthcare, we have been able to reduce the premium for the first time in many years.
"In addition, the HIP and FutureCare premiums will be reduced by the same amount, in an effort to make these low-cost health insurance options more accessible. The new premiums have been tabled in the House of Assembly and are intended to take effect on 1 June.
"There are other Public Health initiatives that are focusing on the health and fitness of our young people so that we end up with a more fit and healthy population that will have health habits learned at school. In particular, the Premier's Youth Fitness Programme and also the healthy schools competition are improving our school children's overall nutrition and activity.
"In fact, the Ministry of Health and Seniors does a tremendous amount to ensure the population is healthy. Our team works daily behind the scenes and at the front line to make sure Bermuda thrives. I'm pleased to share with you the Ministry's "Roadmap", which gives an easy-to-read snapshot of everything we do, and the things we're working on. It is also available on our Government web portal here , under Resources.
"I'd like to leave you with this thought. We are working quietly and consistently behind the scenes to ensure 'Healthy People in Healthy Communities", but we cannot do it alone. Consider your own diet and exercise programme.
"Again the healthier we are as a population, the less we need to spend on insurance premiums. As pleased as I am pleased to announce the drop in the standard premium rate, it would be very beneficial to all of us if we could work on our population's levels of non-communicable diseases to drop our premiums even further.
"But this week is a time to celebrate! We are excited about Friday's Move-a-thon and we hope to see as many people as possible using the opportunity to try out new exercise options in celebration of Public Health Week and World Health Day."

Read More About