Bermuda's Tyrone Smith made an outstanding showing at the Tom Tellez Invitational meet at the University of Houston, leaping 8.34m, which is a new personal best for him, a new Bermuda record, and qualifies him for the IAAF World Championships.
His massive leap of 8.34m — over 27 feet — is a world class showing, and to provide a comparison to show exactly how impressive this distance is; in the 2016 Olympics, the gold medalist leaped 8.38, the silver medalist 8.37, and the bronze medalist 8.29; while in the 2012 Olympics the gold medalist leaped 8.31, the silver medalist 8.16, and the bronze medalist 8.12.
Smith after his leap: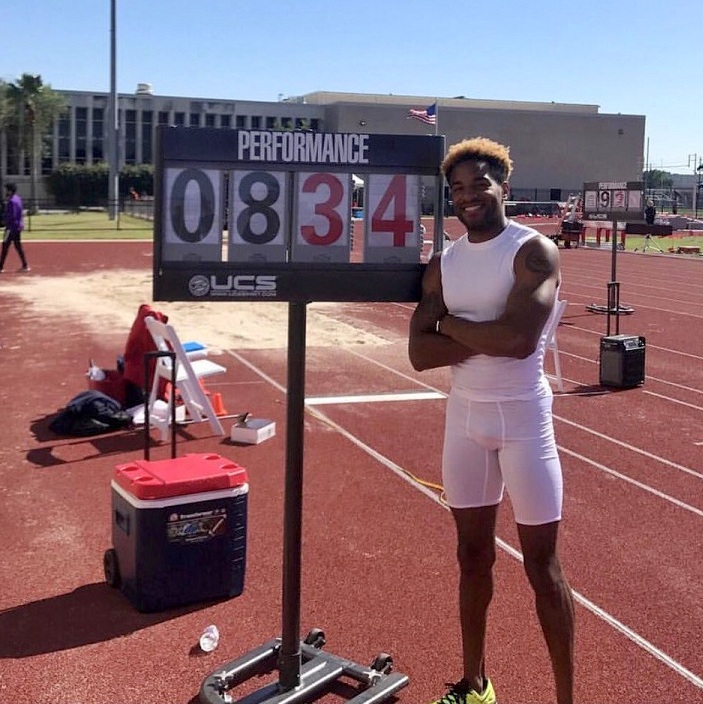 After his record setting leap, Smith said: "It's been nearly 7 years since I last hit a personal best in the long jump. I dealt with a nagging knee injury, hamstring problems, didn't have a track to train on for a little bit there. I broke the 8.30m barrier and improved by seven year old PR by 12 centimeter. A true testament of dedication and commitment to achieving goals!"
The current world rankings on the International Association of Athletics Federations [IAAF] website indicates his leap moved the three time Olympian up to the very impressive position of being ranked 3rd in the world this year, and gives Bermuda the distinction of being the 2nd highest nation on the rankings.
Screenshot from the IAAF website of the 2017 men's senior outdoor long jump top list:


Read More About