Higher volumes of vacationers who are younger and spending more money on-island are fuelling another growth year for the Bermuda tourism industry through the first six months of 2017, the Bermuda Tourism Authority said today.
The BTA said, "Air visitor spending is up 31 percent [an additional $40 million] from January through June of this year when compared to the same period in 2016. Vacationers are driving most of the growth, increasing their on-island spending an additional $21.3 million in the second quarter alone.
"Vacation air arrivals were up 15 percent in the second quarter and have risen 16 percent year-to-date. More than three-quarters of the growth in air arrivals is propelled by visitors under 45 years-old. Air arrivals and visitor spending have experienced six consecutive quarters of growth dating back to January 2016, according to new Bermuda Tourism Authority data released today at a media roundtable.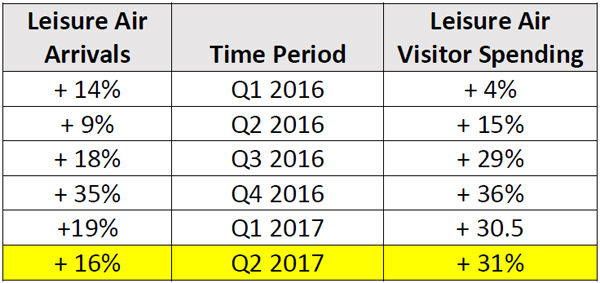 Accommodations
"Hotels are having a particularly strong year, with occupancy up 13 percent through the first six months and RevPar [revenue per available room] up an impressive 27 percent year-to-date. During the second quarter, hoteliers commanded aggressive room rates based on high demand from travellers surrounding the America's Cup, Bermuda Heroes Weekend and other activities in May and June.
"Meantime, the gathering strength of the vacation rental market is equally impressive over the first six months of 2017. The amount of vacationers choosing home rentals is up almost 70 percent through June increasing the cash flow directly into the pockets of Bermudian homeowners."
BTA CEO Kevin Dallas said: "To see hotels and vacation rentals having a strong year simultaneously is encouraging. We expect this trend to continue over the second half of the year, which underscores the need to update Bermuda's legislation to globally accepted practices."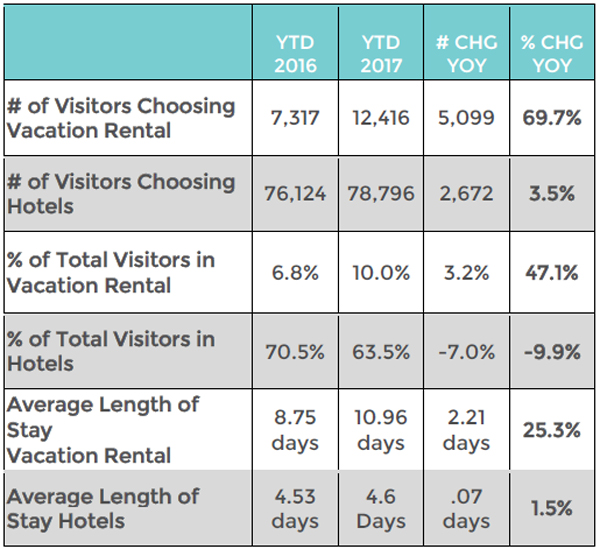 Maritime Arrivals
The BTA said, "A big year for superyacht arrivals is anticipated as the latest figures show superyacht visits are up 107 percent through the first six months – 61 arrived by June 30th last year, already there have been 126 in 2017. During the America's Cup alone [May 1 to June 30], there were 100 private vessels to arrive in Bermuda that fit the superyacht definition of 30 meters of longer.
"Overall, yacht visitors, on vessels of all sizes, were up 27 percent through the first six months. Cruise arrivals also climbed higher, up 13 percent through June."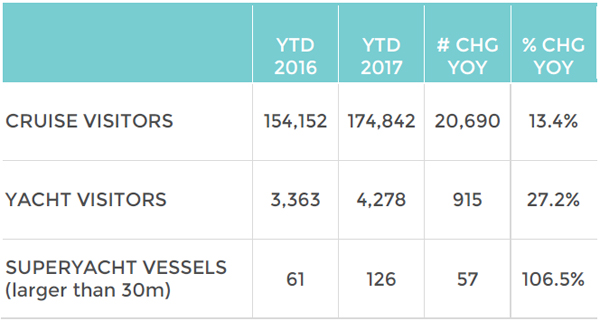 "The America's Cup in May and June of this year clearly had a very positive impact on the amount of money visitors spent on hotels, restaurants, excursions and other vacation expenses – every single category of spending we monitor was up in the second quarter," said Bermuda Tourism Authority CEO Kevin Dallas.
"It's important to point out this spending growth, and the Bermuda tourism industry's growth in general, began before the America's Cup and are based on sound foundations. We're well positioned to ensure long term growth continues long after the America's Cup."
Detailed statistical and corporate reports covering the first six months of the year are available on the Bermuda Tourism Authority's corporate website. You can also find a copy of the CEO's media roundtable presentation online.
The BTA's 2017 second quarter statistics follow below [PDF here]:

Read More About