Saying they are "dismayed" that after marital equality was recognized by the Supreme Court, the Government "now seeks to roll back on those rights," the Centre for Justice said said that "rights conferred by the Human Rights Act 1981 cannot be taken away by any other Act of Parliament" and "we have asked Government to withdraw the provisions of section 48[2] of the Bill."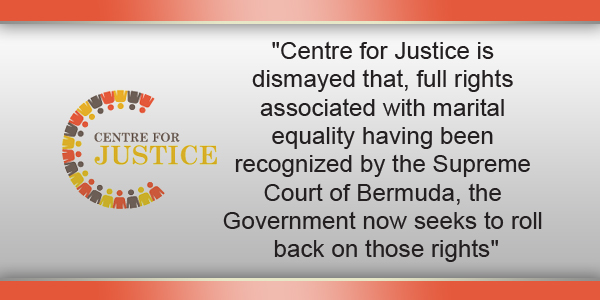 Domestic Partnerships Act To Be Debated In House
The Centre's comments follow after the Domestic Partnerships Act was tabled in the House of Assembly on November 24th, with the Bill set to be debated this Friday.
The Bill will essentially replace same-sex marriage — which has been legal since a Supreme Court decision in May 2017 — with a domestic partnership arrangement which can be entered into by both same-sex and heterosexual couples.
Last month, Minister of Home Affairs Walton Brown said that "we are at this point legislatively because we have a rift in our community between two competing positions," and there was a "very high likelihood" that a "private members bill would have been tabled in Parliament which would have outlawed same-sex marriage and afforded no rights whatsoever to same-sex couples."
Centre Of Justice Comments
"The Domestic Partnership Bill 2017 seeks to, inter alia, provide for the formalization and registration of a relationship between adult couples to be known as a domestic partnership," the Centre said.
"This, in itself, is a lawful objective, however the Bill also purports to prohibit marriage between same sex couples by seeking to override the decision of Simmons, J in the case of Godwin & other –v the Registrar General & Other [2017 SC [BDA] 36 Civ [5 May 2017] [the "Godwin decision"].
"Had the Bill been introduced prior to the Godwin decision, Centre for Justice would have applauded it for being forward thinking especially since it applies to all couples.
"Centre for Justice is dismayed that, full rights associated with marital equality having been recognized by the Supreme Court of Bermuda, the Government now seeks to roll back on those rights.
"Any rights conferred by the Human Rights Act 1981 cannot be taken away by any other Act of Parliament. To that end, we have asked Government to withdraw the provisions of section 48[2] of the Bill.
Screenshot showing part of Section 48 of the Bill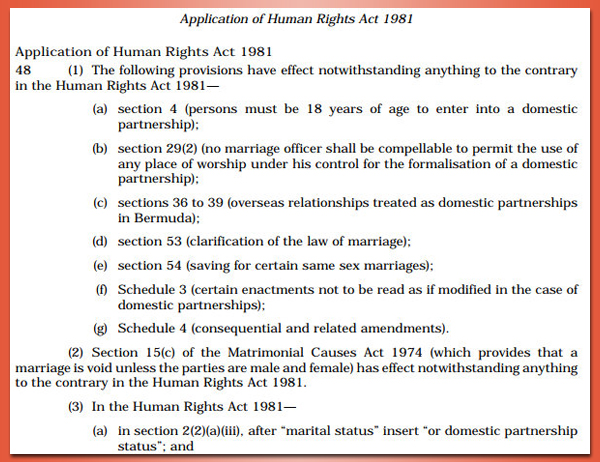 "Regarding the legal status of a same sex couple's marriage if they had married outside Bermuda prior to the Godwin decision, we have sought the advice of Queen's Counsel who has advised that following the Godwin decision, all such marriages became lawful in Bermuda.
"Therefore, we join the Human Rights Commission in their recommendation that the "window" of the validity of same sex marriages outside Bermuda be extended to cover all same sex marriages prior to the commencement of the Domestic Partnership Act 2017."

Read More About