Bermuda Education Network's [BEN] second annual Chinese New Year celebration will provide the backdrop to announce the winner of its Outstanding Teacher Award 2018, with the event to be held at the Hamilton Princess Hotel on Saturday, February 17 at 7.00pm.
BEN Executive Director Becky Ausenda said, "Following the success of last year's event, we are pulling out all the stops to deliver the best Chinese New Year celebration the Island has ever seen, including a unique opportunity to experience traditional Chinese entertainment.
"Mr. Shuwang Yang, from Henan province, will dazzle you with his amazing face changer performance."
A spokesperson said, "All proceeds generated by this event directly benefit Bermuda Education Network's work with public schools, supporting both students and teachers, and providing experiential learning opportunities in the arts, science and sports. During the evening, BEN will highlight the impressive work of some of Bermuda's public school teachers and announce the winner of this year's Outstanding Teacher Award."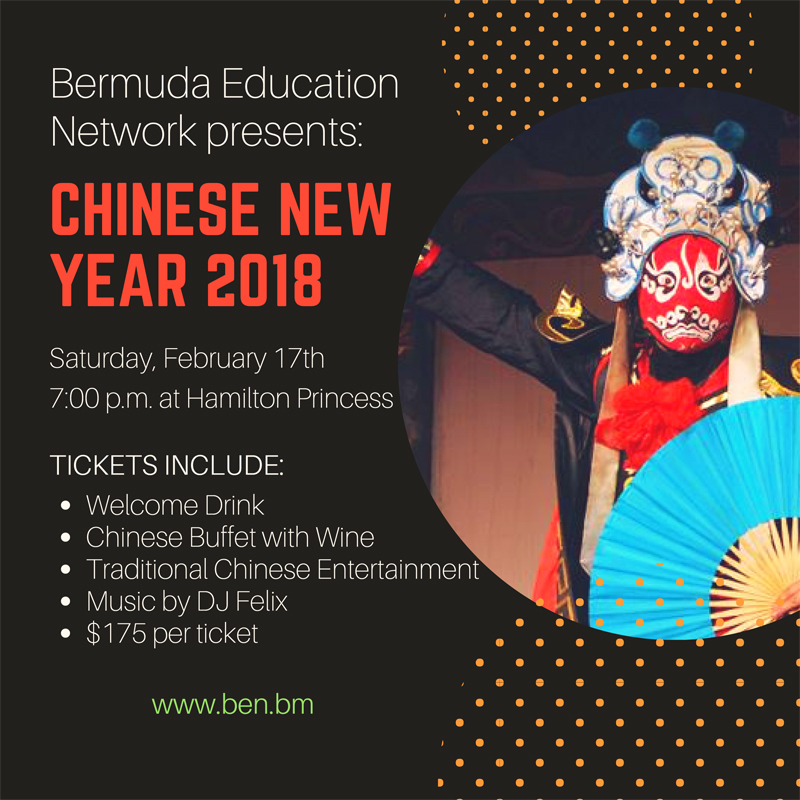 "The 2018 Nominees are Nisanthi Bailey of Dellwood Middle School, Torri Lynn Correia of East End Primary, Kim DeSilva of Southampton Preschool, Tony DeSilva of Whitney Institute Middle School, Kathy Ann Doers of Somerset Primary, Nikita D. Euler of CedarBridge Academy, Gina Evans of Northlands Primary, Sharmaine Nusum of T.N. Tatem Middle School, Helen Paynter of Whitney Institute Middle School, Martin Pastor of Clearwater Middle School and Keema Perry of St. George's Preparatory
"Last year's winner was Ms. Kelly Donville, an inspirational mathematics teacher at Dellwood Middle School.
"Included in the event ticket price is a sumptuous buffet featuring Chinese delicacies and wine with dinner. The Charity will also be raising funds for its public schools program with a silent auction of fabulous prizes generously donated by hotels, local artists, photographers, chefs and more. After dinner, the celebration continues with music and dancing."
Mrs. Ausenda said, "With a limited number of tickets available, great entertainment on offer and the opportunity to celebrate the island's tremendous teachers, I invite you to visit bdatix.bm to get your tickets today."

Read More About