Remembered for his immense contributions to the sport of golf in Bermuda, tributes have been paid to the late Francis 'Frankie' Rabain, who has been called a 'Bermuda trailblazer' who helped integrate golf, was the first Bermudian to participate in a major championship, and was well respected by his peers by his peers both locally and abroad.
Former Premier Dr. Ewart Brown said, "Wanda and I would like to extend our warmest sympathies to the family of Bermuda's Lifetime Ambassador of Golf, Frankie Rabain.
"Frankie had what I call a natural smile. His first reaction to a person was a wide, bright smile that let you know that you had met a man who loved people.
"When we were planning the first PGA Grand Slam of Golf in Bermuda, I did not hesitate for one second to ask his opinion on various aspects of the event. In fact, he used to wink at me when I saw him before the tournament was moved from Mid-Ocean to Port Royal.
"He said he knew two things: One was that the event would move to Port Royal and the other was that I was hoping to get Tiger Woods to play in a future tournament. Of course the latter didn't happen but Frankie knew exactly why we wanted Bermuda to host Tiger Woods.
"I will always remember him as a positive person who always saw light where others saw darkness, who wanted the best for his country. May his soul rest in peace."

Photo courtesy of Kim Swan: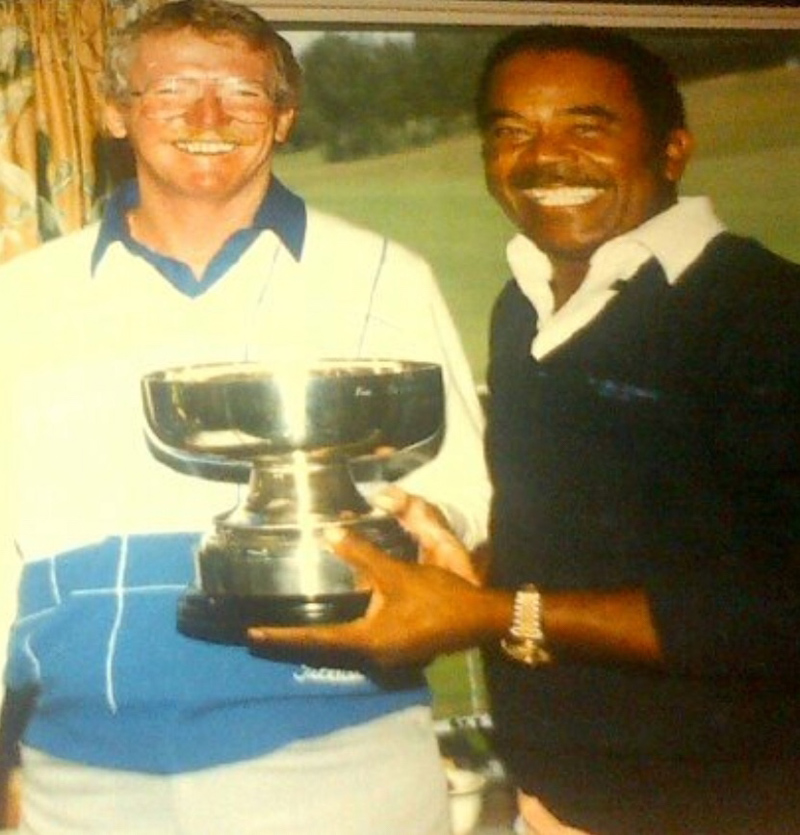 Kim Swan, an MP and golf professional, said, "Francis 'Frankie' Rabain was a Bermuda trailblazer and as a golfer was the first Bermudian to participate in a major championship – when in 1971 he qualified and participated in The Open Championship at Birkdale, Southport, England.
"What is most poignant, is that only four years prior, golf in Bermuda was segregated and the only golf course blacks could play on at that time was Ocean View.
"Frankie Rabain was among a group of black golfers who were trailblazers and emerged and integrated golf in Bermuda.
"Among them, Llewelyn 'Peter' Tucker, Eardley Jones, Noel Van Putten, Keith Pearman, Bill Pitt Sr, Lesline Tucker and his wife Alora Rabain became among Bermuda's top men and women golfers, winning championship they were previously denied entry prior to 1967.
"Frankie credits Herman 'Tucci' Bascome for a good foundation in golf and he later succeeded him as the pro of Ocean View Golf Club. However, we know that Frankie endeared himself to Alora [childhood golf protege] through golf….. not a bad way to meet your future wife.
"Frankie Rabain made a name for himself as the Golf Professional of the Port Royal Golf Course where he served admirably for 32 years.
"At Port Royal Golf Course during his tenure, Frankie was a successful entrepreneur and operated as a traditional Golf Professional, synonymous with the way many top golf clubs still function.
"He not only operated a lucrative concession but he was an awesome player and a sought after teacher. As Golf Professional of Port Royal Golf Course, Frankie believed in continuing his education and attended seminars on a regular basis and he kept up to date with changing trends in the golf industry.
"Frankie Rabain was respected by his peers both locally and overseas. On many occasions he would represent Bermuda Tourism overseas where his award-winning smile put Bermuda in the most favorable light.
"Frankie Rabain was multi dimensional, as a tradesman [tiler], professional musician and Golf Professional. He had an incredible work ethic and the good results in his life are a testament.
"May his family and friends be comforted by a life well lived and his awesome contribution."
Read More About