Local officials continues to assist the US Coast Guard with handling the 250ft cargo ship Alta, which has been adrift since last month, located some 1300 miles southeast of Bermuda with 10 crew on board.
Supplies were reportedly running low, and a Coast Guard aircraft arrived into Bermuda last week to refuel before making a food drop to the vessel. A decision has been made for the crew to abandon the vessel, with the initial intention for survivors to be repatriated via Bermuda, but now bound for Puerto Rico.
A Coast Guard airplane airdrops one weeks worth of food to the disabled cargo ship approximately 1380 miles southeast of Bermuda on October 2nd. Photo courtesy of the Coast Guard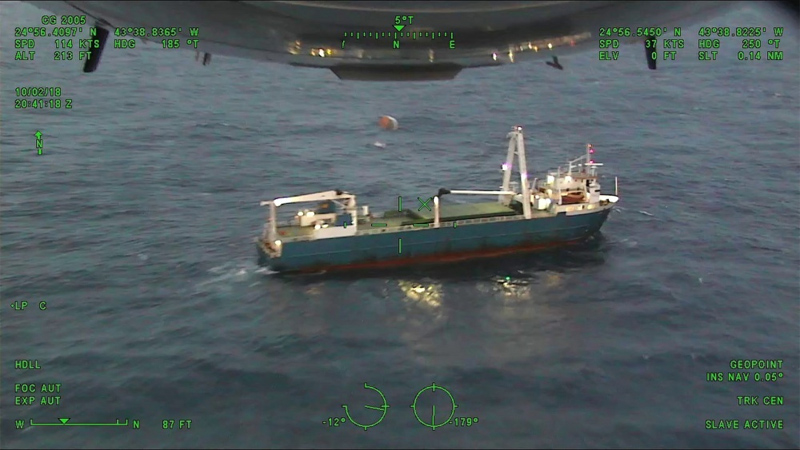 A Bermuda Maritime Operations Centre spokesperson said, "RCC Bermuda continues to assist the USCG Coastguard with an incident involving the 250ft Tanzanian-flagged cargo ship ALTA, on passage from Greece to Haiti, reported adrift [19th September] 1300 miles southeast of Bermuda, with 10 crew on-board.
"Earlier attempts by vessel owners to dispatch tugs from Venezuela, Guyana, and Bahamas have proved unsuccessful and supplies on-board reportedly running low. A USCG C-130 aircraft arrived into Bermuda on Tuesday 2nd October to refuel before making a food drop to vessel a few hours later.
"USCG Cutter Confidence arrived on scene Monday 8th Oct offering assistance to ship's crew as negotiations for tug assistance ashore continued.
"With the onset of TS Leslie and damage to vessel main engine, a decision was made for all crew [Panamanian, Honduran & Greek nationals] to abandon vessel.
"There were no reported injuries on-board with initial intention for survivors to be repatriated via Bermuda, but now bound for San Juan, Puerto Rico. M/V Alta remains adrift to the southeast of Bermuda as salvage attempts by owners continue."
Read More About