Over 50 entrepreneurs received tips on how to shake up their industry at the Disruption & Innovation Seminar held Wednesday [October 17] night at the Hamilton Princess.
The event, put on by the Bermuda Economic Development Corporation [BEDC], gave attendees an insight into how to harness innovation to achieve their entrepreneurial goals.
Attendees were treated to advice from some of Bermuda's movers and shakers who provided insight on what it takes to disrupt the industry. The seminar also offered a glimpse into the life of entrepreneurs who are using innovation to disrupt how business is being done in Bermuda.
Panelists from the Disruption & Innovation seminar speak to attendees about their experience disrupting their industry. From left, Barbara Tannock, Amir X, Lamone Woods, Piers Carr, Norris Ebbin and Kidist "Pinky" Emery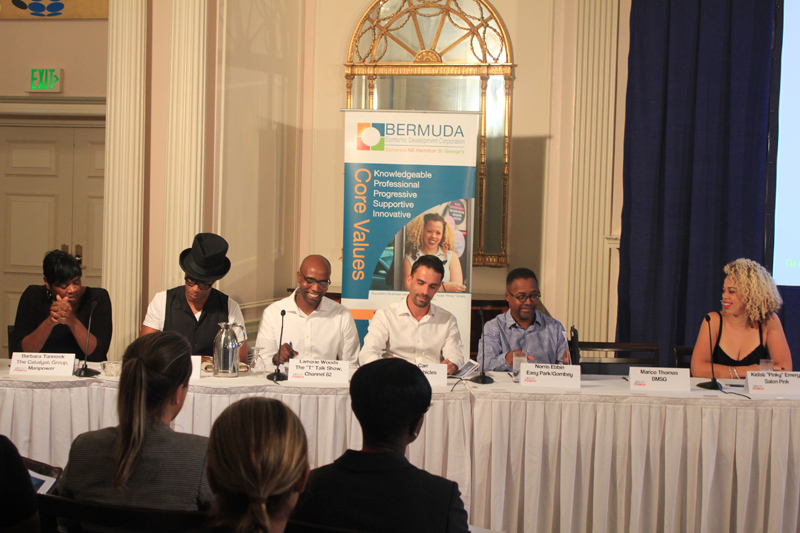 Featured panellists included Marico Thomas of Bermuda Medical Specialties Group, Kidist "Pinky" Emery of Salon Pink, Piers Carr of Current Vehicles, Norris Ebbin of Easy Park and Gombey, Barbara Tannock of The Catalyst Group and Manpower, and Amir X and Lamone Woods of the "T" Talk show and Channel 82.
After the panellists showed how they are a disruptor in their industry, the floor was open to discussion. Attendees were provided with insight on what it takes to disrupt from within; how to promote a disruptive mindset, how to become a disruptor in a bureaucratic environment, provided with ideas on how to identify opportunities that work for Bermuda, and alleviate barriers to entry to achieve business goals.
Amir X talks to attendees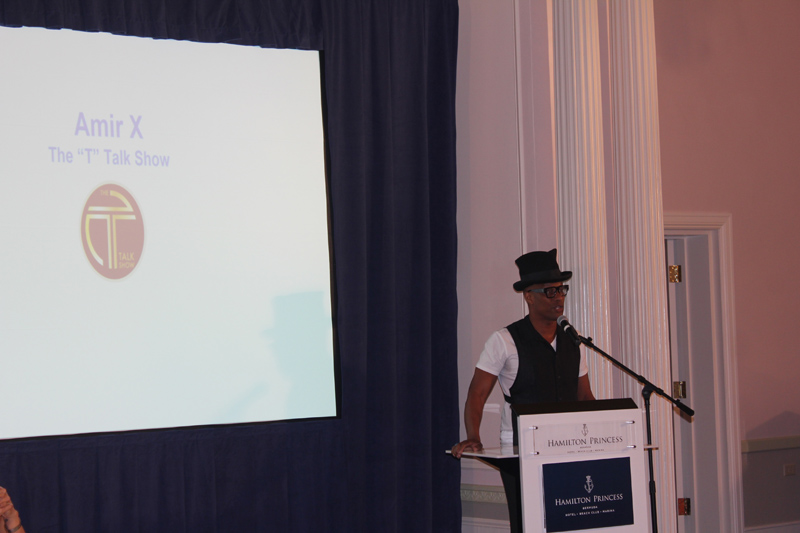 During the discussion, attendee Delight Morris asked the panel if passion was the underlying force that drove them to pursue their businesses. Kidist Emery agreed that passion is her driving force, while Marico Thomas added: "Passion is nothing without purpose."
Attendees praised the event, with one commenting: "The diversity of the speakers gave a variety of views on the different topics presented."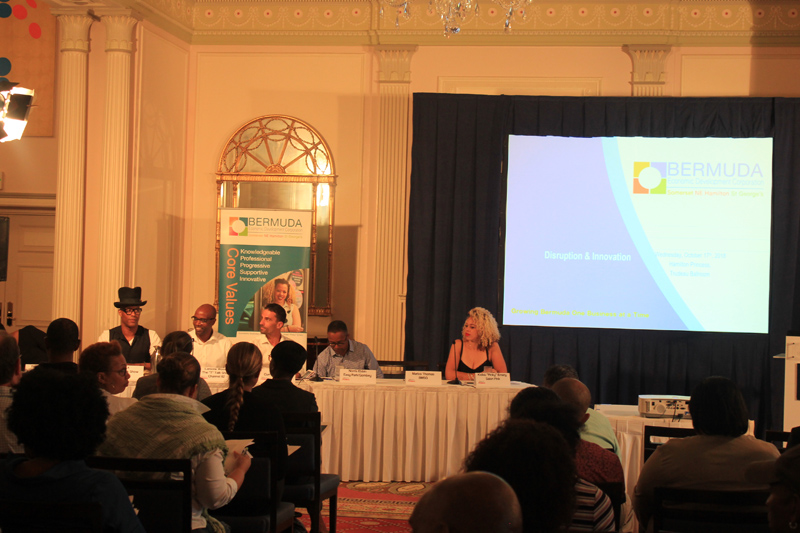 Another noted: "The insights provided by the panel reinforced my beliefs and motivated me to keep working."
Jamillah Lodge, BEDC Information, Education and Communication Officer, who moderated the event, said. "Disruption is about doing things differently. This seminar showcased our local entrepreneurs who have done and continue to do things differently."
She continued: "Our goal is to inspire those that attended this seminar so that they too can be disruptors and continue to change the way in which business is done in Bermuda and ultimately for the betterment of the country."
Read More About