Rosedon Hotel recently won 'The America's Best Classic Elegance Hotel' in the Boutique Hotel Awards, with Lee K. Petty accepting the Award on behalf of the Rosedon Hotel, attending the award ceremony in London along with her daughter Rachael Lee Petty.
In discussing the award, brother and sister team Scott Kitson and Lee Petty said, "We have been hard at work for the past 2 years transforming Rosedon Hotel from an 'old school' B&B into Bermuda's premier boutique hotel while holding onto our historic roots and maintaining a focus on being uniquely Bermudian.
"This award is great recognition of all of the hard work and dedication of the entire team at Rosedon Hotel. We are extremely honored to have had Nagma Walker join the Rosedon team as General Manager in early 2018 and under her leadership we have made tremendous strides elevating our service standards."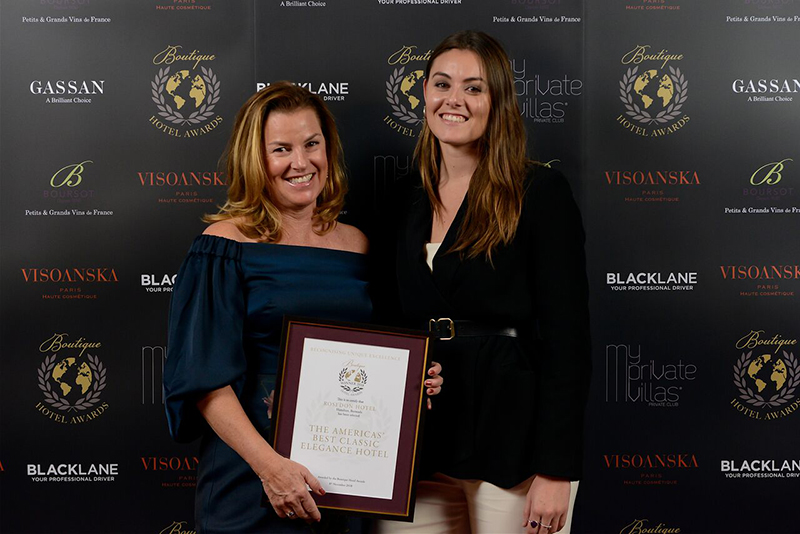 A spokesperson said, "A key ingredient of Rosedon Hotel's transition to a 4 star boutique hotel was the opening of Huckleberry Restaurant in the historic main house. Originally launched under an outsourced agreement in 2017, the operation transitioned to our own management team in 2018 led by F&B Manager Rob Bruni.
"Rob joined us from a boutique hotel property in Washington DC and brings a wealth of experience in large and small scale fine dining. Rob has done a magnificent job of building and training a team of passionate people who are dedicated to making the fine dining experience at Huckleberry a true world class experience.
"Most recently we are extremely proud and excited to have Matt Weber join the Huckleberry team as Executive Chef; Matt is incredibly energetic and passionate about food and brings a very impressive resume and skill set to support our fine dining initiative.

Read More About