The Premier and National Security Minister visited the Royal Bermuda Regiment's latest intake of recruits.
Premier David Burt and Minister Wayne Caines toured Warwick Camp and visited the new soldiers as they got to grips with military life on their second day of training.
Premier Burt told the troops as he and Minister Caines dropped in on a classroom lesson: "We look forward to your continued service in the Royal Bermuda Regiment as you serve your country and better yourselves."
He added afterwards that he was well-briefed on a change in structure to the RBR, which will see troops get more specialised training for disaster relief work, better educational opportunities and the potential for full-time careers.
Premier Burt said: "Change is a process and what we are talking about is fundamental change in the way the Regiment is structured.
Captain Alvin Harvey, Premier David Burt and RBR Commanding Officer Lt/Col David Curley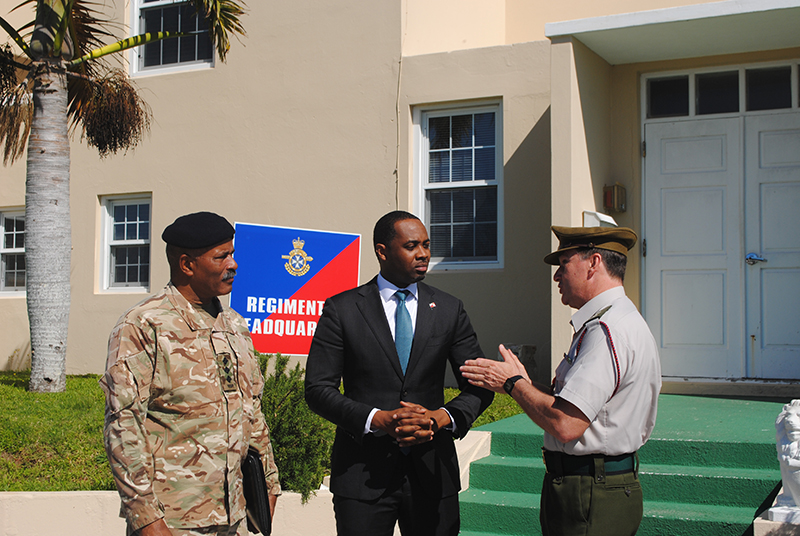 "The agility the Regiment has shown to adapt to this change should be commended. We try to be agile across the Government – it's very important."
He added: "What is most important is for the Regiment to have the support it needs and the complement it needs. The Government will continue to support the Regiment to see that is the case."
The two inspected some of the new equipment acquired to support the RBR's stronger humanitarian and disaster relief role and the troop carriers bought to replace ageing Toyota Land Cruiser trucks.
Minister Caines, a former RBR Captain, earlier told the new soldiers he had seen Recruit Camp as a private soldier, a Junior Non-Commissioned Officer instructor and as an officer.
He admitted that in Recruit Camp as a new private soldier he had thought, as a qualified lawyer and already married, that there was nothing the RBR could teach him – until he hit problems with disassembling his rifle and putting it back together again.
Premier Burt and Minister Caines talk to the troops at the first of this year's Recruit Camps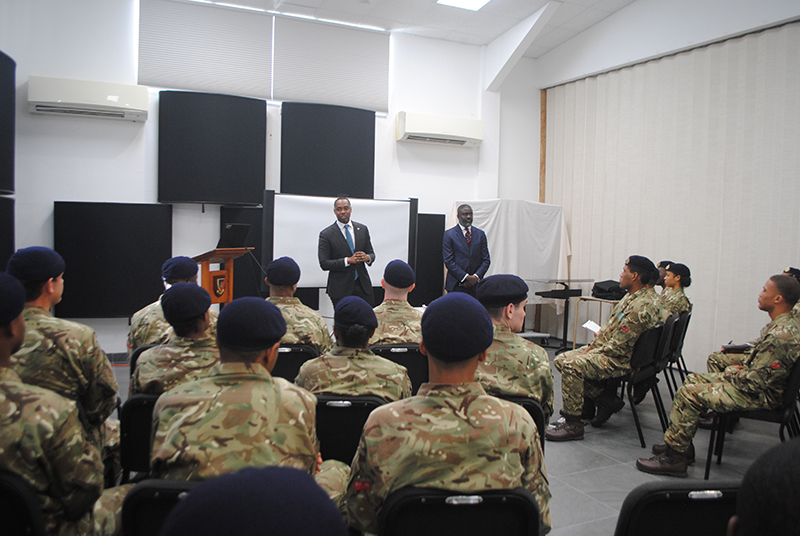 He said his junior NCO instructor, now Sergeant Major Luis Pereira, had taken him aside and given him extra lessons until he got right.
Minister Caines said: "It's a funny thing – when you prepare yourself and work really hard, you can get to a lot of places you never thought you could reach. There is an opportunity to grow as a professional, there's an opportunity to grow as people."
He added: "I would not be the Minister of National Security if it hadn't been for my Regiment service."
Minister Caines said that he was committed to an RBR coastguard to patrol the island's waters on a full-time basis.
Premier Burt and Minister Caines inspect the RBR's new troop carriers, with some of the ageing Toyota Land Cruisers they replace in the background.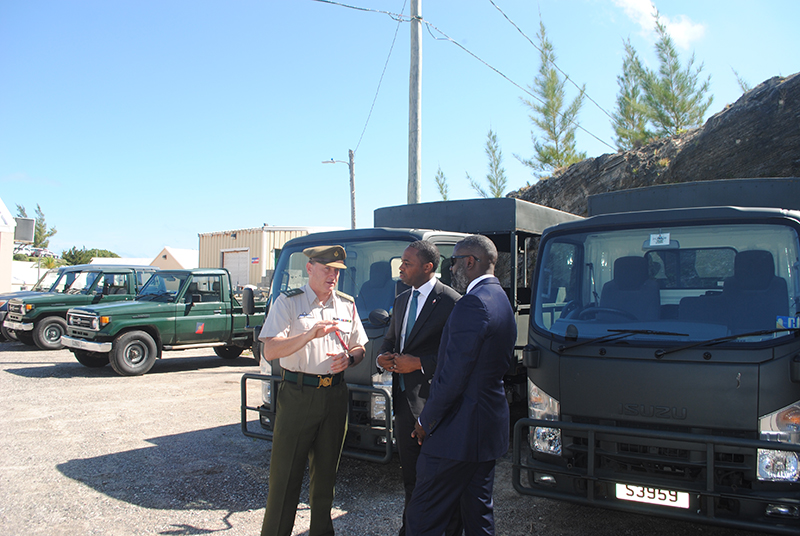 He told the recruits: "The Regiment has the capability for you to develop – I am the Minister of National Security and I was a private soldier just like you.
"You came up here because it was the best thing to do for yourselves and your country. Thank you."
He added later: "We have to continue to grow and develop the specialties in the Regiment. They did a GED programme last year and we want to do more of that with Bermuda College courses added in the future.
"We want to fund training programmes and opportunities that will help them reach their full potential."

Read More About