The island's newest soldiers held their passing out parade at Warwick Camp after two weeks of training.
The troops from the first of two Recruit Camp intakes this year were awarded their rank slides and section and individual awards at Warwick Camp as family and friends looked on.
Private Alex Godet, 23, who won the top recruit prize, said he thought his commitment to his section and the intake helped win him the accolade.
The IT network support specialist, from Paget, added: "I tried to motivate the section and the whole group. I was always positive where I could be, trying to motivate everybody."
Pte Godet, who also won the marksmanship award, said: "I've really enjoyed it – anybody wondering about joining the Regiment, go for it.
"You learn a lot and you make friends along the way."
Pte Godet added he planned to do the Junior Non-Commissioned Officers' Cadre and hoped to go on to join the potential officers' course.
Governor John Rankin inspects the recruits at their passing out parade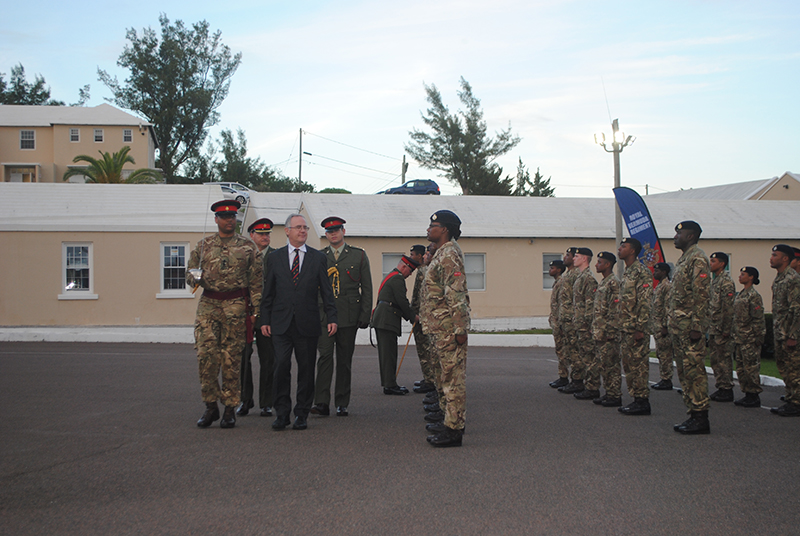 Pte Godet just pipped Pte Andrea Burrows to the top recruit prize – and she was also given a special award to mark her efforts in Recruit Camp.
The cashier at Hamilton hardware store Masters said: "It's awesome. I feel my hard work has paid off and I've definitely seen improvements in myself."
Pte Burrows added: "I'm looking forward to being a better soldier."
She put her recognition down to "determination, hard work, taking on challenges and not being afraid to push myself past my limits".
Pte Burrows said: "I want to go up to Corporal and become a medic."
She admitted she found foot drill a struggle, but said she forced herself through gruelling lessons on the parade ground.
Pte Burrows added: "My muscles weren't used to the tension or the strain put on them. But I caught on pretty fast and other than that, I thoroughly enjoyed my training."
Retired Major William Madeiros, former RBR Commanding Officers Lt Col Brian Gonsalves and Lt Col David Gibbons, Honorary Colonel Eugene Raynor and Col Paul Bates, Assistant Military Attache at the British Embassy in Washington, take their seats for the passing out parade at Warwick Camp.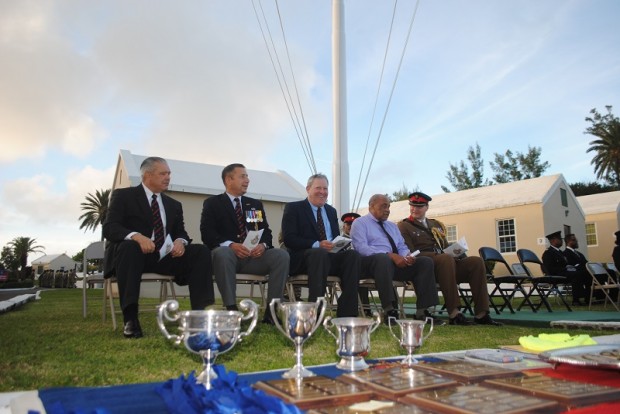 Lance Corporal Ci're Bean, who won best section leader and the best section awards for 1 Section, said afterwards: "I feel it was well-deserved. We all worked hard and encouraged each other through a lot of tough points, but we got through together as a family."
Sergeant Andy Howe of the Royal Anglian Regiment, the RBR's affiliated regiment, joined the training squad for Recruit Camp.
He said: "They've crammed a lot of new information into two weeks…and from what I see, it's going the right way.
"The team here are dedicated, they want results and they're fighting for it. Instead of these soldiers having to be here, we have to convince them to be part of a unit they can be proud of."
The awards were presented at Warwick Camp on Friday night, with dignitaries including Governor John Rankin and Minister of National Security Wayne Caines in attendance.
Former senior RBR officers, including Honorary Colonel Eugene Raynor, and representatives of other uniformed organisations also watched the new soldiers begin their military careers.
RBR Commanding Officer Lieutenant Colonel David Curley said the troops on parade were "evidence of a changing Regiment".
He added: "In times of crisis, your Regiment stands ready to respond, be it assisting the Bermuda Police Service, clearing roads after a hurricane or patrolling our island waters."
Lance Corporal Ci're Bean, Pte Andrea Burrows and Pte Alex Godet after the passing out parade awards ceremony at Warwick Camp.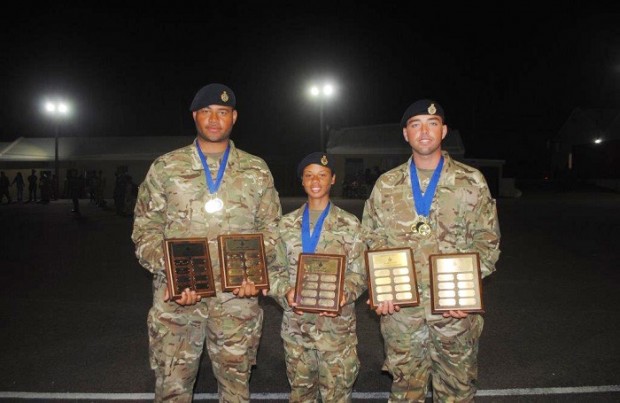 Lt Col Curley added that the troops had learned new skills, overcome challenges and made new friends.
He told the new soldiers: "I am proud of the new recruits who stand before us. I encourage all of you to exploit every opportunity that the Regiment puts before you.
"We are fully committed to investing in our people so that as your capacity increases, so will the capacity of your Regiment."

Read More About