Board and staff members of the Bermuda Community Foundation [BCF] have been fully certified after completing a series of international training modules.
"We are dedicated to ensuring continual growth and development of the BCF team," says Board Chair Michael Schrum. "The quality of our work depends on being informed and educated on the latest techniques and developments in the world of community foundations."
The certification was developed by the Kansas Association of Community Foundations and is the first of its kind. It includes Online Express training videos and is directed at communities of all sizes anywhere. The BCF is the first community foundation to have achieved 100% individual completion of the course by its board. "This puts us in an operational class of our own," notes Dr Myra Virgil, CEO of the BCF.
David Woodcock, Michael Brace, Michelle Grant [BCF Programme Associate], Michael Schrum [Chair], Amanda Outerbridge, Myra Virgil [Managing Director], Nikkita Scott and Brian O'Hara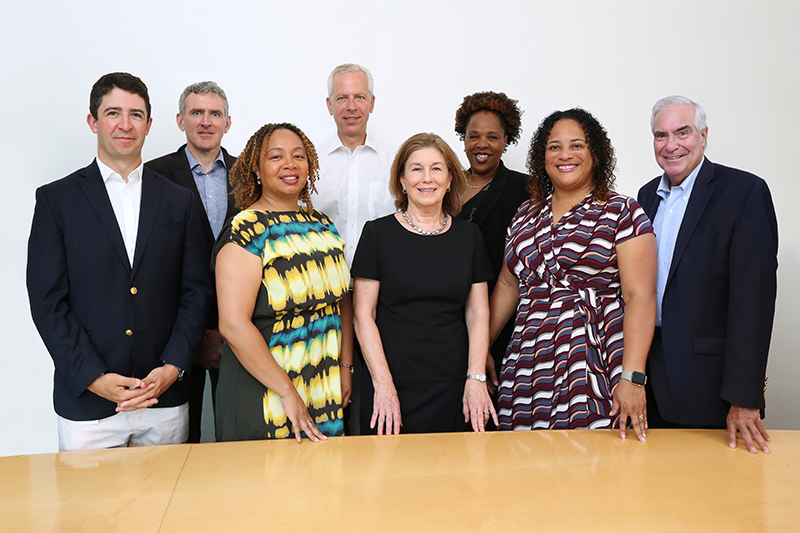 "Given that the community foundation model is relatively new to Bermuda, we are making every effort to develop our skills and establish our credentials. We have also passed – with flying colours – the UK Community Foundations accreditation process."
Modules in the board training cover such topics as
Operating models for community foundations
Basic elements of a quality grants programme
Asset development and investment of funds
Confidentiality and conflict of interest policies
Engagement in community leadership.
Community foundations – 1873 in total identified to date – exist in 69 countries. Their role is to create and manage funds to support their community's greatest needs, often working closely with the nonprofit sector.
While the community foundations movement began more than 100 years ago in Cleveland, Ohio, growth has been significant in the past decade, on the heels of the global financial crisis.
The BCF is five years old and already disburses unrestricted and donor-advised grants of approximately $1 million annually. In addition to its general endowment fund, the BCF has managed 35 donor-advised, 28 special interest programme and 10 agency funds since its inception. It also promotes improved strategic philanthropy through its signature programmes:
Vital Signs – launched in 2017 with a report that identifies community needs and priorities
Impact Insights – a system measuring outcomes to determine programme effectiveness
Beacon Awards Scheme – an annual award to nonprofits meeting Bermuda National Standards Committee criteria through certification and accreditation
Nonprofit Leadership Programme – a three-part programme to develop leaders in the sector.
Families, individuals and groups interested in setting up their own Charitable Funds to improve Bermuda in the long term can learn more about donor-advised philanthropy at www.bcf.bm. or email admin@bcf.bm to set up an appointment.
Read More About
Category: All