BELCO's staff have been working hard to restore power, and they are now getting a helping hand from some very experienced people, with former BELCO staff coming out of retirement to assist, with BELCO saying they are "pleased to welcome back old friends" as their "extensive training means that they can hit the ground running."
8,094 Without Power As Of 9.30am 
Over 28,000 customers lost power in the hurricane, and BELCO crews have been hard at work, bringing some 20,000 back online, with the company confirming that 8,094 customers remain without power as of 9.30am today [Sept 21].
Sign In Paget Thanking BELCO workers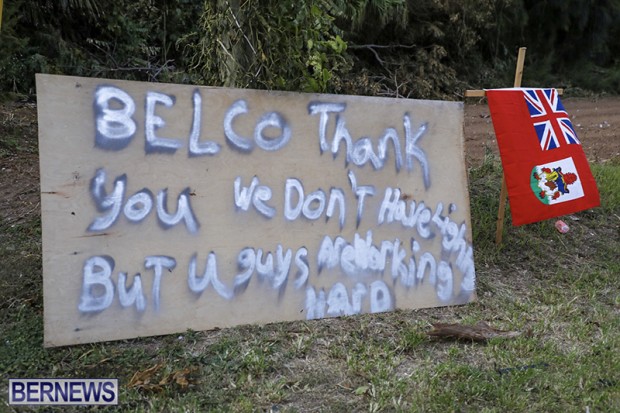 BELCO Retirees Join In Restoration Effort
A spokesperson said, "We are very pleased this morning to welcome back old friends who are reuniting with us to restore power to affected communities.
"A number of recent BELCO retirees have joined the effort to repair the substantial damage to Bermuda's electrical system sustained during Hurricane Humberto. Their extensive training means that they can hit the ground running.
"Their experience, skill and professionalism will help to further increase our capacity to address the remaining outages and bring households back online quickly and efficiently. This is even more important as we prepare to strengthen our systems and brace for the potential threat of Hurricane Jerry early next week."
Today's Work Areas
BELCO said, "Field crews shall commence this morning with a dual approach designed to repair the two remaining downed mainline circuits, whilst focusing largely on following areas:
EAST
Area surrounding Tobacco Bay
Bailey's Bay
Devil's Hole
Shark Hole
Northshore: Near Shelly Bay Market Place
Northshore: Near First Church of God
Knapton Hill
CENTRAL
Northshore Road: Near Gov't House
Trimingham Hill
Pitts Bay Road
WEST
Spring Benny
Cobbs Hill
Long Bay Lane
Henry VIII
"If your area is not listed, do not panic! Your issues are also being addressed, both indirectly and directly. Due to the complex system of interdependencies that make up our electrical system, issues in the areas above need to be addressed before issues further "down the line" can be fixed and households brought back online [just as issues that have already been repaired were addressed before the areas above]. Our crews are working methodically, efficiently, and as quickly as they can to bring the entire system back online."
You can view our live updates on Hurricane Humberto here, and all our coverage of Hurricane Humberto here.

Read More About