The Bermuda Industrial Union [BIU] launched a fundraising drive to assist the Bahamas, which has been devastated by Hurricane Dorian and is in urgent need of assistance.
The latest reports from the international media state, "Bahamas emergency services have listed 2,500 people as missing after Hurricane Dorian struck the islands last week. This official count suggests the death toll will be much higher than the current 50, though the number of missing has yet to be checked against those in shelters and should fall.
"Tens of thousands of people remain in need of aid. Dorian equalled the highest winds ever recorded for a hurricane at landfall when it struck the Abaco Islands. Large areas were devastated on the Abacos and on Grand Bahama."
A spokesperson said, "At the behest and request of the Caribbean Congress of Labour to all of its affiliates, the Bermuda Industrial Union has begun a fundraising drive to assist our brothers and sisters in the Bahamas who are urgently in need of emergency supplies as a result of the devastation of Hurricane Dorian.
"Our theme is 'Helping to put lives back together' and it is our hope that funds raised will indeed help to put lives back together in the Bahamas. We have set up an account at the Bermuda Credit Union Co-op Society specifically to collect donations and we are imploring our members to make deposits to this account, no matter how big or small. The Credit Union account number is 9693.
"For further information, members can contact Sister LaVerne Furbert at lfurbert@biu.bm or at 292-0044."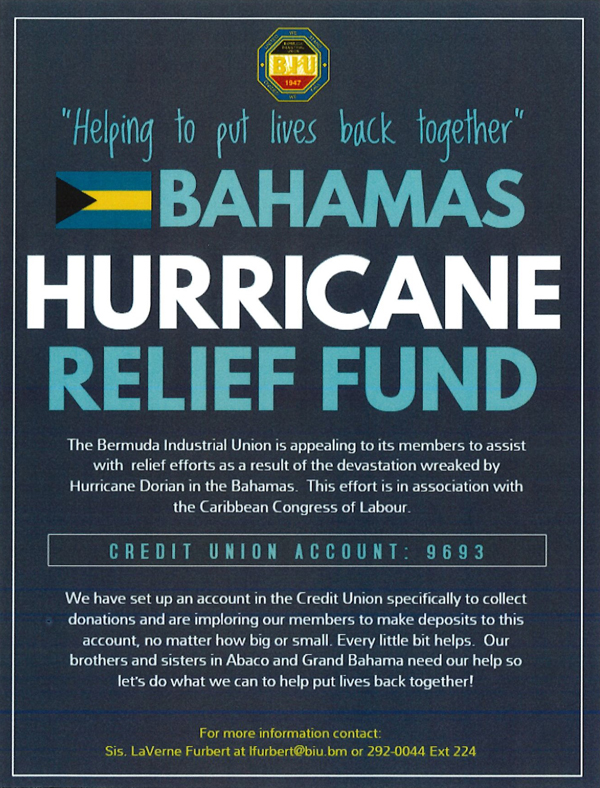 Read More About