Bermudian graduate student Shane Antonition calls his two-week journey into the Sargasso Sea aboard Greenpeace's research vessel M/V Esperanza an "awe-inspiring and humbling."
A research assistant at the Bermuda Aquarium, Museum & Zoo [BAMZ], Mr. Antonition joined the Esperanza this summer when the vessel sailed out of St. George's to investigate microplastic pollution in the environmentally sensitive region of the Atlantic.
"To be so far from land, with other ships a rare sight, makes you feel very isolated and really puts into perspective how small we are in the vast ocean," he says writing in the Department of Environment & Natural Resources newsletter Envirotalk. "At the same time, it is also beautiful: the sunsets were amazing and the water was this deep pristine blue.
Greenpeace flagship Esperanza in port in Bermuda before embarking on its two-week Sargasso Sea Expedition: Photo: Greenpeace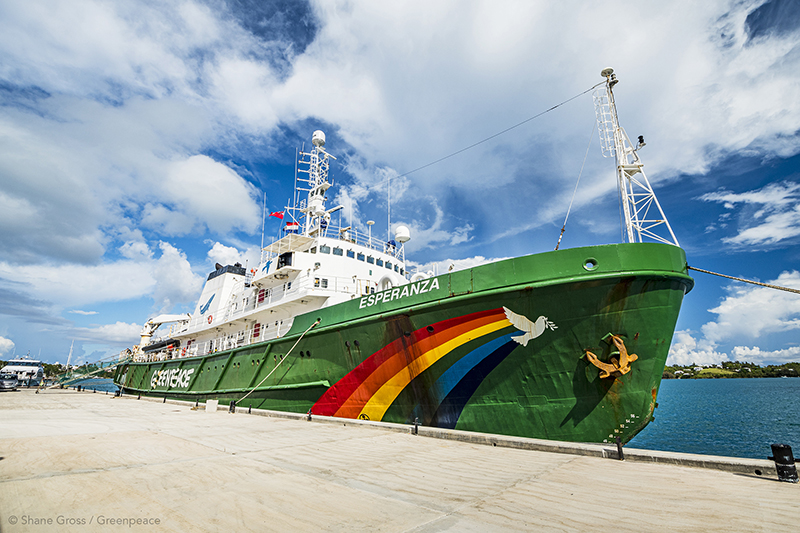 "However, this initial impression is deceptive, for what hides out here is microplastic pollution, and this was the reason for the voyage."
Mr. Antonition points out that an estimated 4.5 million metric tons of plastic waste.
enters the world's oceans every year, and is carried by ocean currents into gyres like the Sargasso Sea.
The internationally publicised Greenpeace expedition into the Sargasso Sea from Bermuda, according to a statement issued by the environmental organisation, intended to "study the impact of plastics and microplastics on marine life, and to document the importance of this unique ecosystem for protection under a new Global Ocean Treaty that is being negotiated at the United Nations."
Aside from hosting scientists, graduate students and researchers from around the world — including Mr. Antonition and J.P. Rouja of Bermuda's Nonsuch Expeditions — actress and environmental activit Shailene Woodley was also aboard the Esperanza for its Sargasso Sea voyage.
Greenpeace scientists discovered extreme concentrations of microplastics in the Sargasso Sea, a critical nursery for baby turles and other marine wildlife Photo: Greenpeace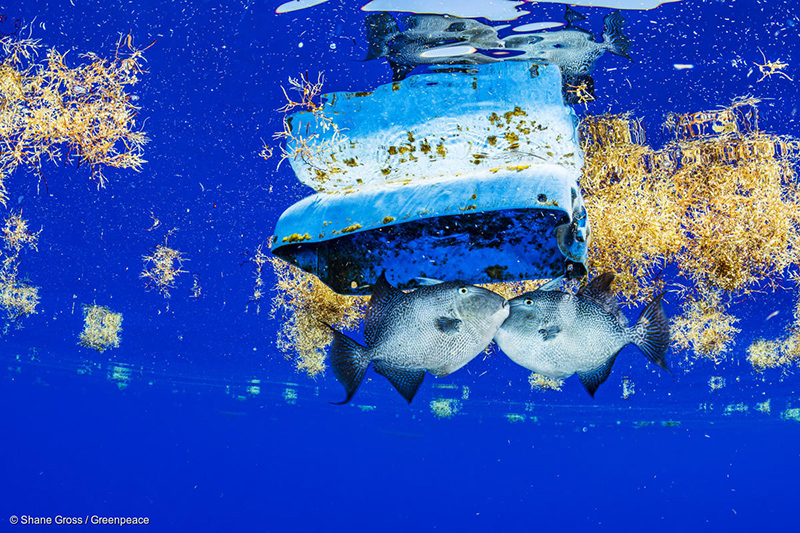 "We need to have a clearer understanding of the extent of microplastic pollution," says Mr. Antonition in Envirotalks. "My role as an assistant scientist was to conduct manta trawls for microplastics, which involves putting a small net in the water for 30-60 minutes and letting it skim the surface of the water to collect the floating plastic debris.
"In comparison to my previous sampling experience working at the BAMZ, I was not prepared for the amount of plastic we found out there. Every trawl had hundreds of microplastic pieces, comprised of fragments, fibres and films. In one sample, we found 1,299 pieces alone, most between 1 to 5mm in size."
He points out that since these microplastics are often eaten by fish, it's possible that chemical contaminants can
work their way up the food chain onto people's dinner plates.
You can read Mr. Antonition's full article here.

Read More About
Category: All, Environment