The Atlantic Construction Ltd 2019 Pomander Gate Members Pickleball and Tennis tournament – Bermuda's first official pickleball tournament – has come to a conclusion.
A spokesperson said, "Bermuda's first official pickleball tournament saw the men take to the courts from 4.00pm on Friday for the Mens Doubles.
"Under extremely warm conditions, eight of Pomander Gate's top male players battled it out with a level of intensity not seen during the training sessions that take place on the Club's purpose-built pickleball courts seven days a week.
"Top seeds Michael Burns and Rob Morgan dominated in all three of their matches to take top honors, despite Burns suffering a foot injury that almost took him out of the tournament.
"Playing well together from the start, Burns and Morgan were able to respond to some great net points, third shot drops and dinking from Louis Gariepy and Gavin Wilson.
"Against Danny Fox and Tim Proctor in their second match of the day, Morgan showed outstanding court coverage and incorporated some tremendous overhead shots while allowing his partner Burns to regroup from his injury and get back into the game. Burns and Morgan won this match 11-5, 11-7.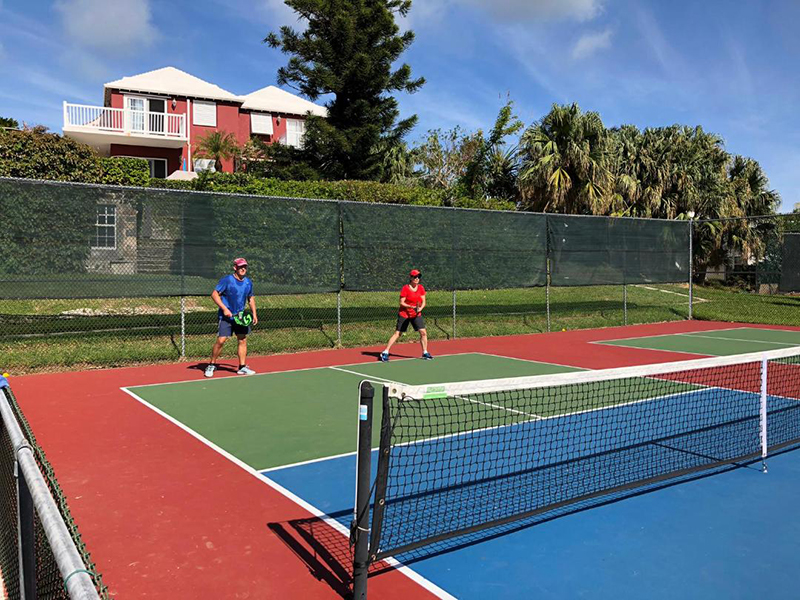 "Fox and Proctor came out victorious against Trevor Moniz and John Holland,- although Holland's strong tennis skills and quick reflexes made for long rallies. A brief time out for Holland's broken paddle certainly kept things interesting. Fox and Proctor went on to beat Gariepy and Wilson with Wilson's great serving not enough to top Fox's text book pickleball deep shots.
"Moniz and Holland went down to the eventual winners Burns and Morgan but they had a great match against Gariepy and Wilson. Their opponents got off to an early start with some overhead winners by Wilson and classic dinking by Gariepy. But Holland's strength just outside of the no volley zone near the net and an epic winner down the middle of the court, allowed Moniz and Holland to creep ahead with an 11-9 win.
"The second game saw Moniz start off with a brilliant overhead smash and following some great rallies, Moniz and Holland secured the match with an 11-8 win.
"Saturday saw the pickleball players take to the courts again for the Mixed Doubles, with Michael Burns battling on despite his foot injury from the prior day. His partner Kim Burns did some extra running around the court while Michael was visibly favoring his injured foot, but they worked well together as a team and had some great results taking them all the way to the semi-finals.
"Rob Morgan and Sarah Fox took first place in the Mixed tournament, having both already been on winning teams in the Mens and Ladies Doubles. Morgan and Fox kept the second place finishers, Tim Proctor and Sheila Fisher, on their toes in an exciting final, with Morgan changing up his serve to favour a short, slow shot compared to his usual power serve.
"Rhonda Caza and Louis Gariepy also made the semi-finals, with Gariepy's technical strength complementing Caza's game which got better and stronger the longer she was on court.
"Also new to pickleball but happy to throw their hat into the ring were Yves Doyon and Bianca Chartree. Along with Mary Ellen Ewles who partnered with Pickleball regular Gavin Wilson, the newer players demonstrated how quickly the sport can be picked up and enjoyed.
"In tennis, David Thomas reclaimed the singles title against a resurgent David Jenkins, 6-0, 6-3. Jenkins, who prevailed over Sam Thomsen in a hard-fought three set battle in the semi-finals, found Thomas to be a trickier problem to solve. After beginning on the back foot, Jenkins was able to get his teeth into the match early in the second set, but Thomas was equal to the task.
"In men's doubles action, the climax of the tournament peculiarly ended up being the semi-finals. Father/son duo John and Noel Johnston were the toast of the tournament after dispatching second seeds David Brown and Sam Thomsen, 6-4, 6-2.
"David Thomas and young up-and-comer Kallan Richardson found their hands full in their semi-final, but eventually overcame Ali Arouzi and Richard Daley, by the same score. As fate would have it, the injury-bug came down hard on John Johnstone as he was unfit to suit up for the final, effectively handing the title to Thomas and Richardson.
"David Brown and Richard Daley teamed up to bring home the men's senior doubles title in sensational fashion. In a battle of the top two seeds, second-seeded Chris Bardgett and Sam Thomsen gave Brown and Daley all they could handle and found themselves points away from victory. It wasn't meant to be for the pair as Brown and Daley came from behind in the third set tiebreak to pip their opponents to the prize.
"The mixed doubles event, which was a round-robin draw, has one final match to be played before final standings can be determined.
"Pomander Gate's pickleball players are extremely grateful to Atlantic Construction Ltd and the Tennis Club for including their sport in this year's Members Tournament for the first time.
"Pickleball is the fastest growing sport in North America, appealing to all ages. Pomander Gate has been supporting the early growth of the sport in Bermuda for much of the past year – with an investment in four dedicated pickleball courts being made this spring. Two other local venues have just announced brand new pickleball courts this month.
"Pomander Gate's pickleball players are committed to helping grow the sport in Bermuda. Hopefully it won't be long before there are regular local inter-club competitions and players traveling overseas to compete.
"With visitors to Bermuda bringing their pickleball paddles with them, it suggests that Bermuda could be a popular venue for hosting a pickleball tournament open to overseas players in the not-too-distant future."

Read More About